In this article, we'll take you through a step-by-step guide on how to effectively manage dual SIM cards on your Google Pixel 8 & Pixel 8 Pro.
The Google Pixel 8 and Pixel 8 Pro are known for their cutting-edge features and innovative technology. One of the standout features of these devices is the ability to use two SIM cards simultaneously, providing users with added flexibility and convenience.
Dual SIM functionality allows users to have two separate phone numbers on a single device. This is incredibly useful for individuals who want to separate their personal and work lives, or for those who frequently travel internationally and want to use a local SIM card while keeping their home number active.
Read: How To Install Unknown Apps (APK Files) On Google Pixel 8 & Pixel 8 Pro
Manage Dual SIM Cards On Google Pixel 8 & Pixel 8 Pro:
Navigate to the Settings menu on your Google Pixel 8 or Pixel 8 and select Network & Internet.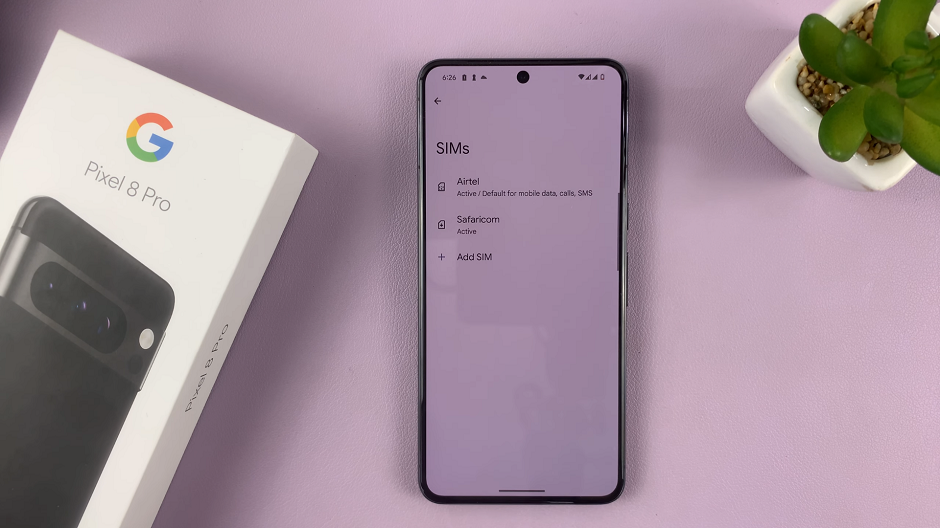 To manage SIM Cards, tap on SIMs. Here, you'll see options to configure both SIM card slots. Insert your SIM cards into the corresponding slots if you haven't already.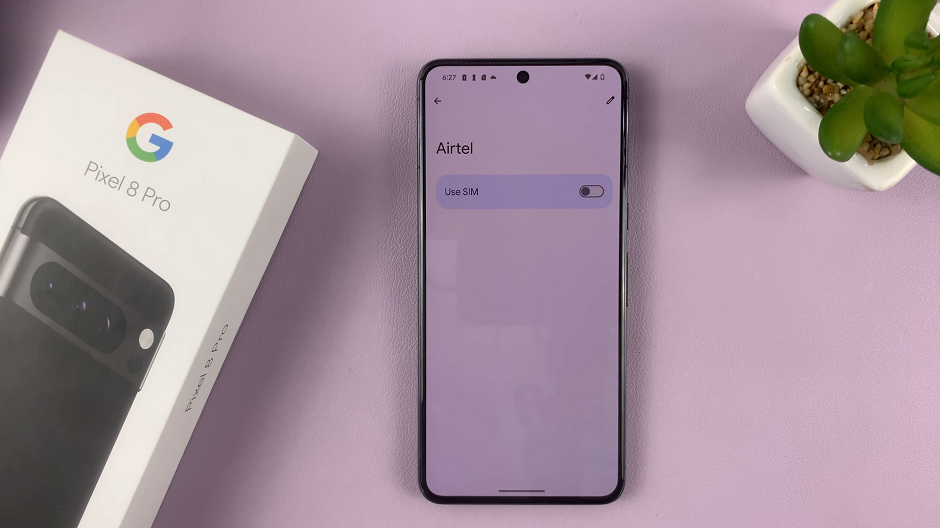 You will have to configure your preferred SIMs one-by-one. Tap on one of the SIMs and the first option you'll see is the toggle button to turn the SIM on or off.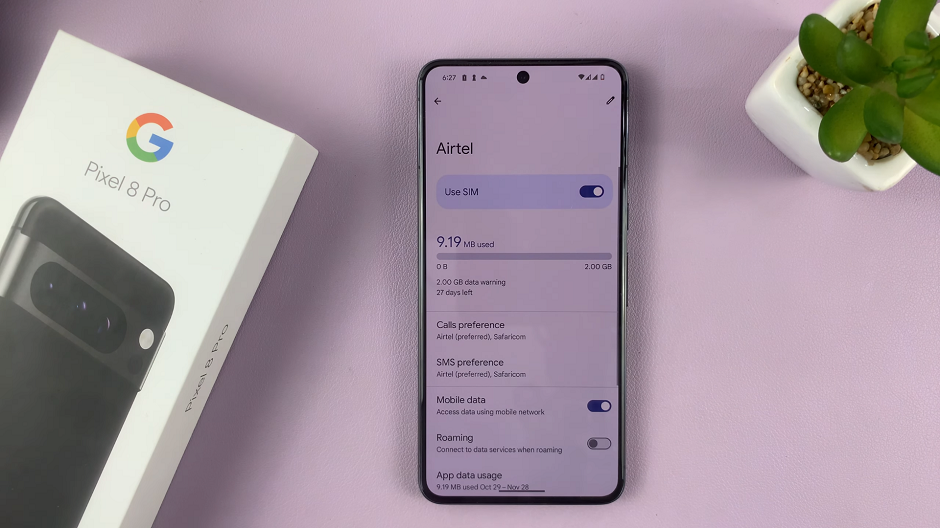 Next, set your preferred SIM for various functions like calls and texts. Under Calls Preference and SMS Preference, tap on each option and select "Ask Every Time", if you have more than one SIM card inserted.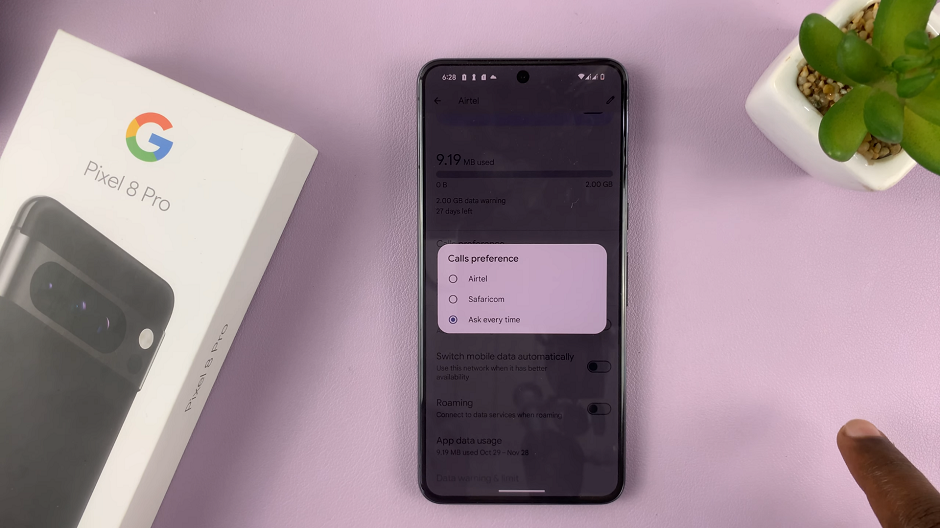 You can also choose which SIM card to use by default for each category.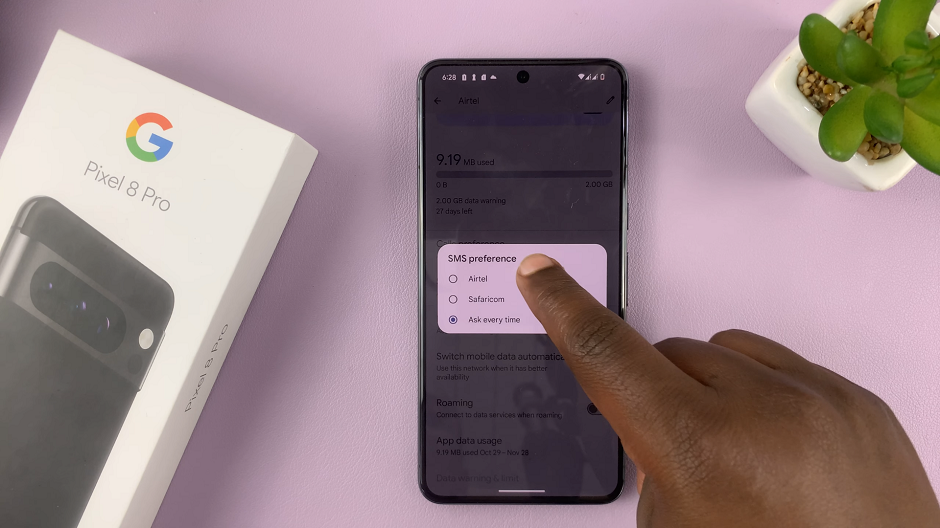 Step 5: At the top-right corner, you can tap on the pencil icon and a menu will appear. here, you can edit the name of the SIM Card, the color, network and phone number. Once you're done, tap on "Save".
You can also tap on the toggle next to Mobile Data and Roaming to enable or disable the two options. Determine which SIM card should be the default for data usage. If all of them are on, the phone will determine which data to use smartly.
Under Preferred Network Type, you can choose 5G, LTE(4G) or 3G for that specific SIM Card.
You can also go back and make customizations to any of the other SIM cards that are inserted.
To switch between SIM cards for data, swipe down from the top of your screen to access Quick Settings. Tap the arrow available on the Internet tile.
For specific contacts, you can choose which SIM card to use for calls or texts. This can be configured in the contact's details.
Troubleshooting Dual SIM Issues
If you encounter any issues with your dual SIM setup, consider the following troubleshooting steps:
Check SIM Card Compatibility: Ensure both SIM cards are compatible with your device and are activated by your service provider.
Restart Your Device: Sometimes a simple restart can resolve minor software glitches.
Reset Network Settings: If issues persist, try resetting network settings in the device's settings menu.
Managing dual SIM cards on your Google Pixel 8 or Pixel 8 Pro can greatly enhance your mobile experience. Whether you're separating work and personal calls or enjoying the benefits of local and international numbers, the flexibility is invaluable. By following the steps outlined in this guide, you'll be able to make the most out of this feature and unlock the full potential of your device.
Watch: Google Pixel 8 / Pixel 8 Pro: How To Turn Camera Flash ON / OFF