In this guide, we will walk you through the process of allowing unknown app installations on your Google Pixel 8 or Pixel 8 Pro, and demonstrate how to install APK files.
The Google Pixel 8 and Pixel 8 Pro are powerful Android devices that offer a wide range of features and customization options. One such option is the ability to install applications from sources other than the official Google Play Store.
This can be incredibly useful for accessing niche or beta apps, but it requires enabling the installation of unknown apps.
Read first: How To Change Beep Sound Volume On GoPro HERO12
Install Unknown Apps (APK Files) On Google Pixel 8 & Pixel 8 Pro
To begin, unlock your Google Pixel 8 or Pixel 8 Pro and navigate to the home screen. Swipe down from the top of the screen to access the notification shade, and tap on the gear icon in the top right corner to open the Settings menu. You can also access Settings via the app drawer.
In the Settings menu, tap on the Apps option. Tap on it to open the menu, scroll down and you will find the Special app access section. Tap on it, and then select Install unknown apps.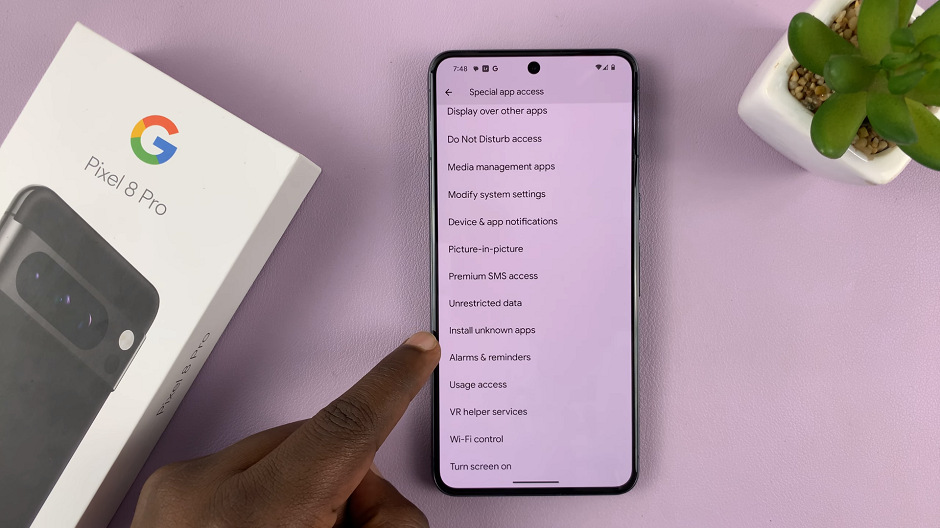 You will now see a list of apps that have the permission to install unknown apps. Locate the app you intend to use for installing APK files (for example, Files by Google, Chrome, Drive, Gmail or WhatsApp).
Tap on it and toggle the switch on, labelled Allow from this source to allow it to install apps from unknown sources.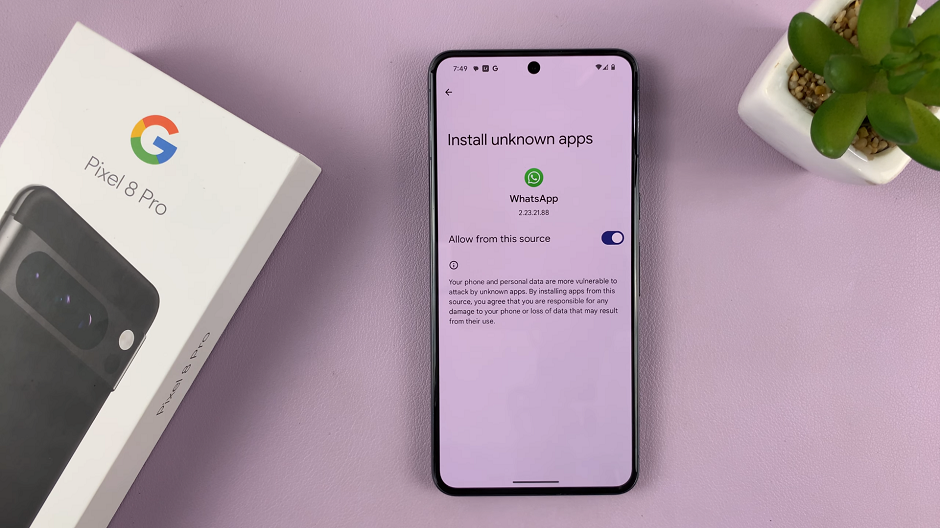 With the unknown app installation enabled, you can now proceed to download and install APK files. Open the app you selected in the previous step, and navigate to the location where the APK file is saved. Tap on the file to initiate the installation process. Follow any on-screen prompts to complete the installation.
DISCLAIMER: Installing apps from unknown sources can potentially pose security risks. It is recommended to exercise caution and only download APK files from trusted sources. Always be vigilant about the permissions requested by apps during installation. Once you're done installing the app, it's important to turn off the toggle button. This will prevent installation of potentially harmful apks on your device.
By following the steps outlined in this guide, you can easily allow unknown app installations and install APK files on your Pixel 8 or Pixel 8 Pro. Enjoy exploring the wide array of applications available beyond the confines of the Google Play Store!
Also Watch: How To Use Palm Gesture To Take Selfies and Photos With Your Google Pixel 8 Pixel 8 Pro