A Godaddy account could hold your most prized online assets or future dreams and it's important to know your way around and especially, how to log in. In this article, I will briefly go through everything you need to know about Godaddy login.
The term login can be used interchangeably with sign in, log in. They all mean the same thing. But before any of these, you must have a Godaddy account which you can create for free. Then you'll have something to log into.
The Login Page
The Godaddy log in page can be accessed easily from the home page: https://www.godaddy.com. This page might redirect to location specific URLS like https://uk.godaddy.com/ but there's no need to worry.
From the home page, click on Sign In ⌄ in the upper right side of the home page and from the drop down menu, select 'Sign in'. That will open the login page and it will have this box in the middle of the screen.
How To Login To Godaddy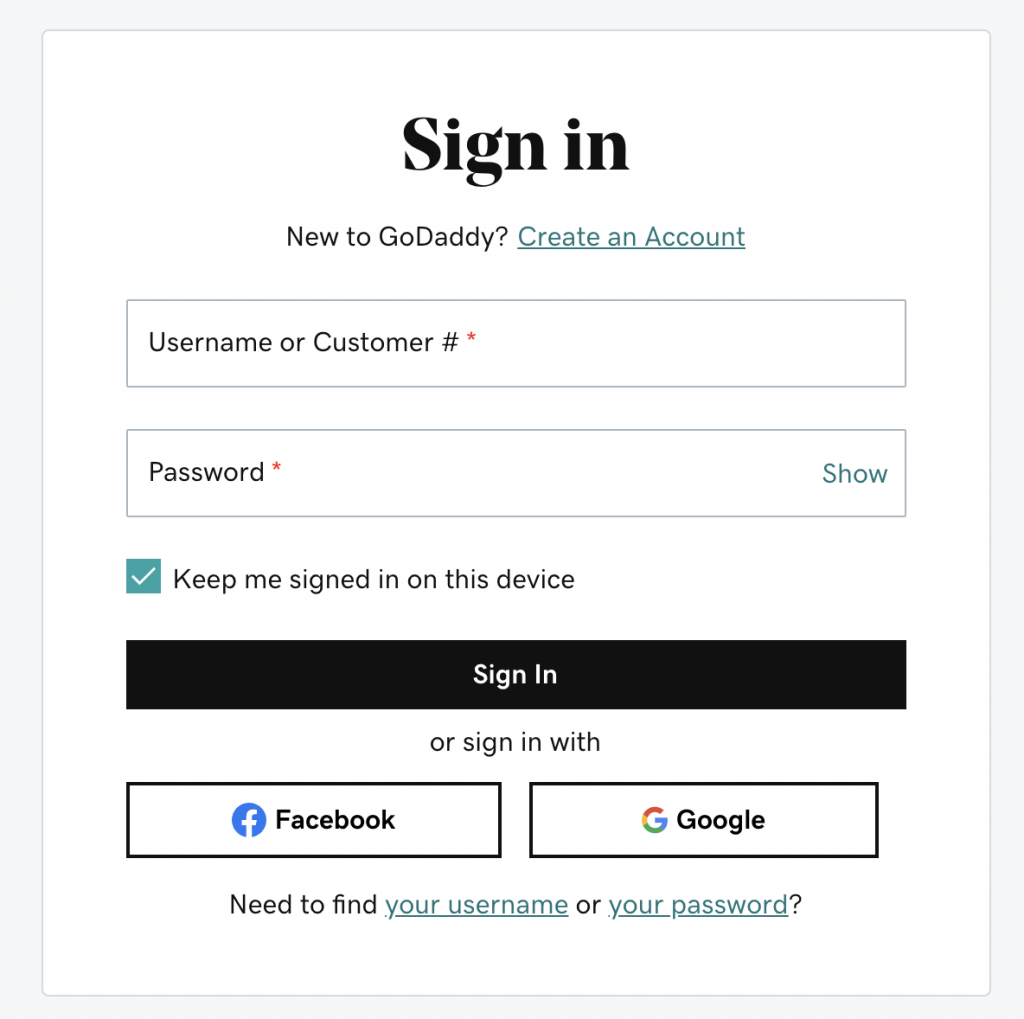 There are three different methods to log in to Godaddy and each method has its pros and cons. The way you log in depends on how you signed up. If you signed up with Email, then you'll need your Email and password combo to sign in. If you used either Facebook or Google to sign up, then that's what you'll use to log in to your account.
The best way to log in to Godaddy is by using your username/customer# and password combo. This is because your Godaddy account remains independent and cannot be compromised in case your Facebook or Google account is.
Simply Enter your Godaddy username or Customer Number in the field indicated and then Enter your password in the next field below and then click on the black Sign In button. If everything is okay, then you'll be logged in to your account.
How To Login To Godaddy On Your Mobile Browser
Although it's not ideal, if you need to do something urgently in your Godaddy account, you can log in via the browser on your iPhone, Android phone or tablet. Simply go to the homepage and tap on the profile icon in the upper right side. From the menu, tap on the Sign in link. You'll be presented with a similar looking login screen.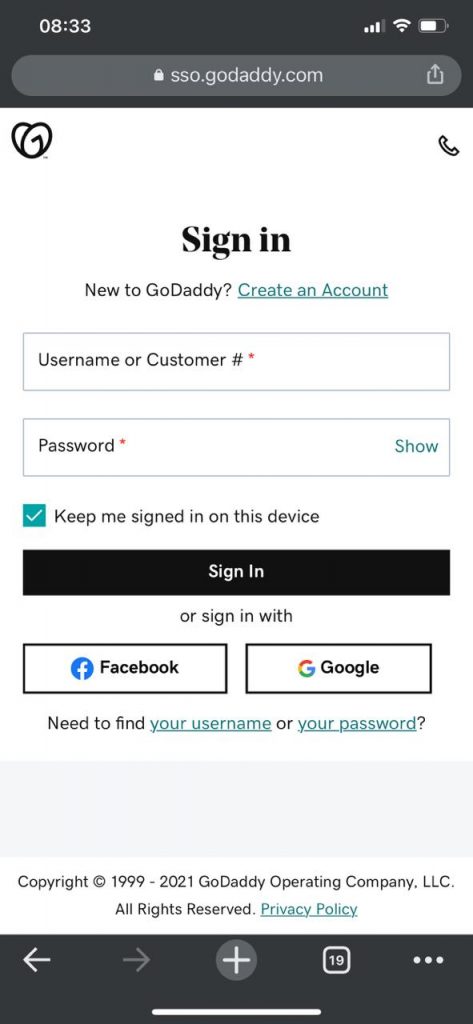 Simply Enter your username or customer # in the username field and your password in the corresponding field. Then log in. Once you're logged, you'll be presented with a mobile version of the Godaddy website.
Believe it or not, there's no official Godaddy app on both the Apple app store or on the Google play store. You can only login to Godaddy on your web browser or on your mobile browser.
Godaddy Account Login Problems
There are a few problems you might encounter when trying to log in to your Godaddy account and I'm here to address those as well. I'll address the most common known to me but if you have a specific problem, feel free to write it down in the comments and I'll address that too.
I can't log in: If you're confident that you're entering the correct username/customer # but you still can't log in for some reason, try clearing your browser cookies and cache. Or try opening your an New incognito Window on your browser before attempting to log in again.
Use Username or Customer #: In most websites, you can use the username or a login Email to log in to your account. Godaddy DOES not use Email login to log in to accounts. Ensure you're using either the username or the customer # in the username field.
I forgot my username/ Customer #: In the username field, you can either enter your username or your Godaddy customer ID. If you can't remember either, you can simply sift through your Godaddy Emails and you should find your customer number in there. If not, follow this page.
I forgot my password: If you forgot your password, then you can't login to your account. But you can easily reset it using other info like your Email address or a phone number if you have one attached.
I think Someone Knows my Password: You can add an extra layer of security to your login page by enabling @ step verification as explained here. If you prefer to watch a video, here it is: 2 Step Verification On Godaddy
Should I let my Browser Save My Godaddy Logins?: If you're on a personal computer, then by all means, you can allow your browser to save your login credentials. Never save your passwords on a computer that does not personally belong to you!