There's nothing worse than using your phone at night in the dark except using apps that are not in dark mode. The bright white light that's the default for many apps has a lot of negative effects on your eyes, your sleep, and even your smartphone's battery health.
Fortunately, the operating systems and even apps have now added dark mode to the apps as an option for people who might be interested. TikTok did not get left out on the dark mode train. The steps below will guide you on how to enable dark mode on TikTok.
Watch: How To Log Out Of Facebook Messenger
Enable Dark Mode On TikTok
The steps are the same for both Android and iOS devices. Make sure you have the latest TikTok update installed on your device.
Firstly, launch the TikTok application on your iPhone and tap on your profile icon in the bottom right corner. Then, tap on the three lines in the upper right corner of your profile page and tap on 'Settings and privacy'.
Next, scroll down and tap on 'Display' under the Content & Display section. You'll see a couple of display settings of the app. To enable dark mode, simply tap on the 'Dark' option.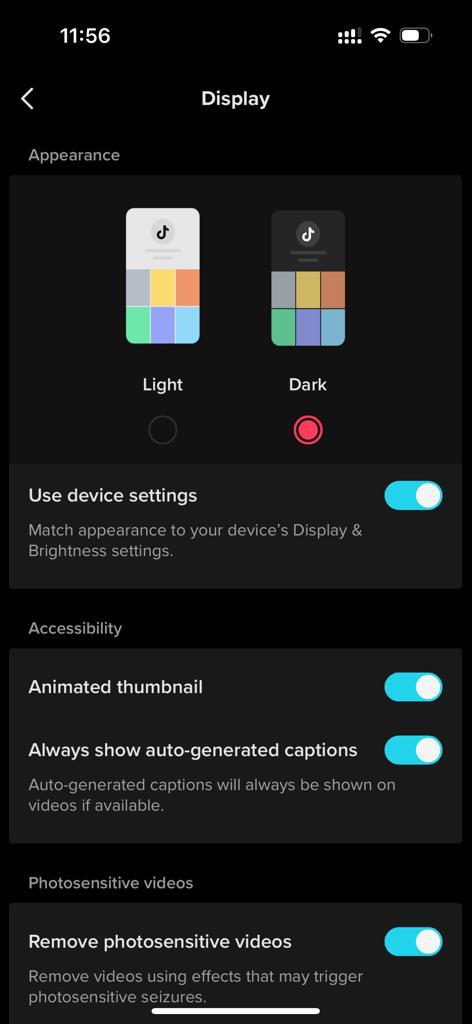 However, you can decide to use the device settings. For instance, if your iPhone is in dark mode, then the application will adapt to the existing settings. That's how to go about it. Let us know in the comment section below if you have any questions or suggestions.
Also read: How To Connect PS5 Controller To Samsung Galaxy S22 Phones