This is one among other errors you can encounter when trying to watch Hulu movies or shows on your phone or computer.
It occurs when your device is not able to get to the content you want to watch and the issue could be from your end or from Hulu's end of things.
On your end, it could be a classic case of local network problems or bad internet connectivity, e.t.c
Follow the following tips in the order given and if by the end of them the error persists, it may not be a local problem but a problem with Hulu.
How To Fix Hulu Error Code 301
Refresh Your Browser
If you are watching Hulu via its website, restart the page by closing the website then opening it once again. This may clear the error.
Change Your Device Or Browser
Try changing up the device or browser you are using to watch your movies and shows.
If this works, then the device you have been using and got the error on may have a network connection or software problem.
Clear The Cache
If you are watching Hulu via your computer, try clearing the cache by clicking on the Menu icon indicated by 3 dots at the top right hand corner of your browser.
Scroll down to the Privacy & Security option and go for the Clear browsing data option.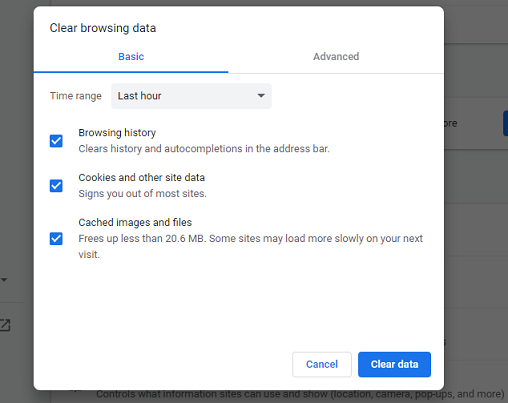 When you choose this option, even the cache will be cleared.
Update Your Browser
You can verify if an outdated version of the browser you are using is the problem by opening Hulu on a different browser.
If it opens, then go ahead and update the browser getting the error.
Update Hulu App
If you are using the app to watch movies and shows and encounter the error, try updating it.
An outdated version tends to get errors and updating the app to the latest features should clear the error.
Clear The Hulu App Cache & Data
Just the same way you cleared the Cache on your browser, you should too for your app as there may be corrupt data causing the error.
A simple uninstalling, download then reinstalling should clear the corrupt data and cache.
Check The Internet Connection
If you are not aware, Hulu needs high speed internet in order to work.
First check that your internet connection is okay and then verify that your internet speed is adequate.
Restart Your Device
Whatever device you are using to watch Hulu, could be your computer or phone, turn it off completely, let it sit for a couple of minutes then switch it back on.
Check to see if the error has cleared.
Restart Your Network Hardware
If restarting your device in step 8 did not clear the error, you will need to restart your router and modem.
Switch these off completely, unplug them from their power source and let them sit for a couple of minutes before powering them back on.
After this, plug them back in and then restart them once again.
Check 3rd Party Sites And Social Media
If all the above steps have not worked so far, go to social media or 3rd party sites like outage.report.
If Hulu is experiencing a widespread problem, people on social media streets will be talking about it.
If this is true, you will have to sit out the error waiting for Hulu to sort it out.