This 'Authentication Error Occurred' error happens when Android users try to connect to a Wi-Fi network.
There are a number of reasons why this error may present itself like typing in an incorrect password, an issue with network settings, e.t.c
Let us now have a look at a number of methods we can use to rectify the issue when it arises.
How To Fix A Wi-Fi Authentication Error
Clarify The Network Password
This could be a classic case of you have put in the wrong password when logging in to the network.
Or, it could be that your router settings have changed so the password has also reset.
Open Settings on your phone and tap on the Wi-Fi option. Go to the Wi-Fi network facing the error, select it and then the Forget the network option.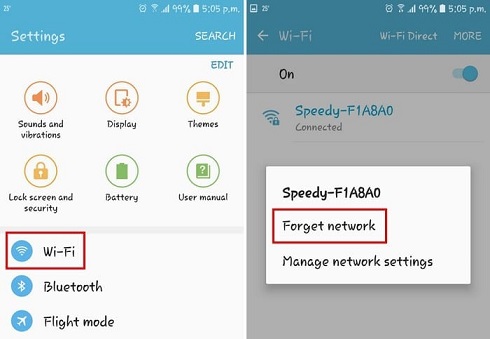 Once done, tap on the Wi-Fi network once again and type in the correct password. Make sure you can see the password you are typing in.
This may or may not clear the error. If it does not , go to your router settings and verify that the password is correct.
In your browser, type in 192.168.1.1 (default IP address) and put in the log in username and password.
Once you are in , go to Wireless and under it Security. Check to see if everything is in order with your password and if not, rectify this.
Turn On Airplane Mode
When you do this, what happens is that all connectivity to your phone is lost or turned off.
This is bound to refresh your phone such that when you go back online, the error should have cleared.
This method is as easy as sliding down the notification bar on your phone and tapping on Airplane Mode to turn it on.
You can also do this by pressing and holding the Power button down and then tapping on the Airplane Mode option.
On turning it off, the error should have cleared.
Reset Network Settings
Doing a reset of these settings is advisable as they may be the source of the problem. With the wrong settings, your Wi-Fi network will most often than not be messed up.
To do this, open Settings on your phone and then open Backup and Reset. At the bottom of the menu that is displayed, tap on the Reset Network Settings option.
Next, tap Reset Settings and confirm the step. Now try and log in to your Wi-Fi network.
Configure The IP Address
If there is an issue with your IP address configuration, your router will not allow your phone to connect to the internet.
To sort this out, open Settings on your phone then open the Wi-Fi option. Go for the Modify settings option against the Wi-Fi network getting the error.
Select the IP settings and set them to Static. Now go to the IP address, change it to 192.168.1.36.
For the last digit, you can choose between 1 to 255. Now try and connect to your Wi-Fi network and the error should have cleared.