A bunch of loose cords and wires emanating from your TV are, you have to admit, not a pleasant sight.
There are a variety of tricks you can use to hide unsightly wires, let us go through a couple of them.
How To Hide TV Wires Without Cutting Into A Wall
Using A Cable Raceway
A Cable Raceway (See On Amazon) is a shallow channel that you can mount on a convenient place on your wall and then run the wires inside it and snap on its cover.
Raceways can be made of either metal or plastic material.
A metal raceway is a more permanent solution seeing as you will have to screw it into the wall.
Its upside is that it is durable and you can paint it to match the color of your wall.
A plastic raceway is less permanent since it comes with an adhesive that you can stick and easily peel off at will.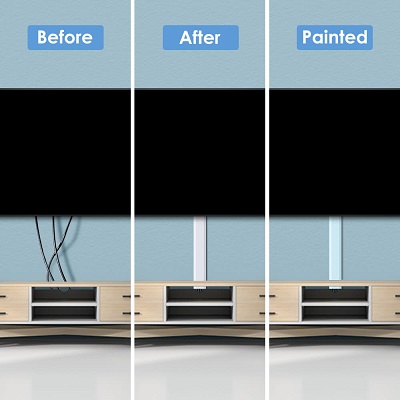 Its upside is that it is less expensive than a metal raceway.
Hide The Wires Behind Furniture
This is such an affordable and easy method as you will use furniture that you already have in your possession.
Get hooks and stick them to the back of your furniture then hang your wires on these hooks.
You can also get a mesh and screw it to the back of your furniture then go ahead and hang your wires using hooks.
Instead of the back of your furniture, you can also use its legs. Just line the wires along the legs of the furniture and use hooks or adhesive to keep the wires from hanging.
Another method would be to hide wires behind decor in the house like books, a table, some drawers, e.t.c. Just tuck the wires behind the decorative items and you are good to go.