Your home screen may feel cluttered and disorganized. For this reason, you may want to declutter it by hiding some applications.
Let us now have a look at how to very easily do this.
How To Hide Apps On An iPhone
Step one, open your App store and tap Today found at the bottom of the screen.
To access the list of apps you have purchased, open your account or tap your Photo found at the top of the screen.
Under the Account screen, tap Purchased and from the displayed screen, identify the app you want to hide.
Swipe left on the app to hide it. Next up, tap Done.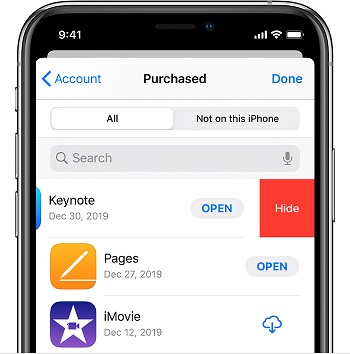 To restore your hidden apps, you will have to re-download them. You do not have to purchase them all over again.
Steps To Follow To Restore Hidden Apps
Like we did above, open your App store and tap on Today. To access your profile, tap the Account button or your Profile picture at the top of the screen.
Here, tap on the Apple ID and if prompted to, sign in. After this, scroll down and tap Hidden purchases.
Identify the app you want restored and tap the Download button. At the end of the download, your previously hidden app will have been restored.