When your LinkedIn profile is set to Public, members and non-members not signed in to the platform can view your profile.
You can choose to change this fact as your business does not need to be everybody's business.
Let me show you how to do this such that your profile will not appear in search engines and non-LinkedIn members cannot view it.
How To Hide A LinkedIn Profile
At the top of your LinkedIn homepage, locate the Me icon and tap on it.
Next, tap on View Profile and then Edit Public profile & URL.
Toggle to off the Your Profile's Public Visibility button found under the Edit Visibility section.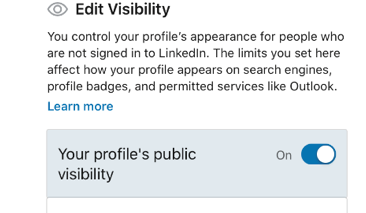 When you switch this off, your profile will no longer be available for public consumption.