For you to have a fast and smooth experience when playing games on Minecraft, there is a setting called OpenGL.
The work of this setting is to minimize the rendering load on the system. It is set to ON by default and so it is not uncommon for the error to occur.
Some reasons for the error are corrupt Shaders, an outdated OptiFine among others.
How To Fix Minecraft OpenGL Error 1281
Remove All Shaders
Shaders tend to use all the resources of the application. For this reason, they tend to be in conflict with other mod modules causing the OpenGL error.
Try disabling the Shaders one by one to see which one is causing the error.
Update OptiFine
OptiFine is an optimization tool which makes Minecraft look better and perform faster.
If you check the version of OptiFine you are using and find it to be older, open the official download page for OptiFine and get the latest version.
After downloading and installing it, restart your computer.
Check Mods Version Compatibility
This error tends to show up for users who have modded their Minecraft excessively and are using more than one Mod module.
If any of the modules you are using is not compatible with another, you will get the error.
Check the mods you have installed in your computer and in case of a mismatch, disable the mod and try launching the game.
Install Java Packages Manually
Minecraft uses Java mods and if these Java file packages are not installed, they will not start up and you will get the error.
Now let us go through how to install Java files in a computer manually. Click on the This PC shortcut found on your desktop and select Properties.
Next to System type, check the Operating System installed on your computer and download the Java files.
Move this file to an accessible location then open it and copy the file version you see.
Launch Windows Explorer and then open the following path.
C:\Program Files\Java (for 32 bit)
C:\Program Files x86\Java (for 64 bit)
Paste the file copied to the location and copy its name. Open Minecraft Mod manager and click on Edit Profile.
Under Advanced Java settings, check the option to execute and replace it with the correct path stated above.
Now restart your computer then Minecraft and check if the error has cleared.
Reinstall Minecraft
Click on Windows + R to open the Run dialog box and type in appwiz.cpl. Now press Enter.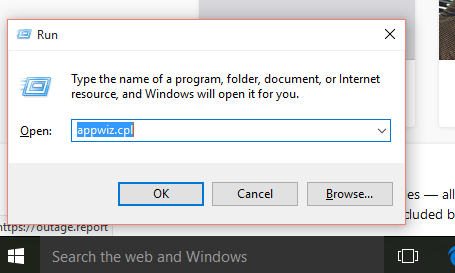 In the application manager, scroll to Minecraft, right click on it and choose the Uninstall option..
Next, open Minecraft's official page and download the game once again.