This error message will show up on your computer when you try to download the latest Windows update.
The error can also cause your updates not to work.
Below, we are going to have a look at a few strategies you can implement to try and clear the error.
How To Fix Windows Update Error 0x80080008
Check Your Antivirus
Your Antivirus may be the reason you are getting the error.
To remedy the situation, you may need to disable some of the antivirus features, disable the antivirus itself or remove it completely.
If doing this clears the error, then you may need to consider getting another antivirus altogether.
Restart Windows Update Components
Use Command prompt to dot this, it is less tedious. Run it as administrator and run the following commands.
net stop wuauserv
net stop cryptSvc
net stop bits
net stop msiserver
ren C:WindowsSoftwareDistribution SoftwareDistribution.old
ren C:WindowsSystem32catroot2 Catroot2.old
net start wuauserv
net start cryptSvc
net start bits
net start msiserver
After running them, try downloading the updates and the error should have cleared.
Download The Update Manually
Visit Windows Update History website and verify the KB number of the update you want to download.
When you get it, go to Microsoft Update catalog and enter that number in the search box.
In the list of updates that appear, find the one that goes with your system then click on the Download option.
After download, run the set up file to install it. Once installed, your system will be up to date.
Restart BITS Service
If your Background Intelligence Transfer Services stops working, the error may occur. For this reason, you need to restart it.
Open the Run dialog box by pressing Windows + R and type in services.msc then press Enter. Look for BITS in the list that appears and double click on it to open Properties.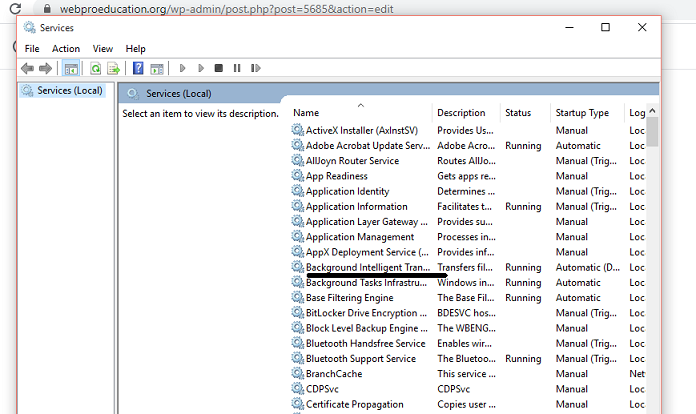 If the service is not running, click on the Start button then choose Recovery. Ensure that the First and Second Failure are set to Restart the service.
Click on OK and then try to run updates. Everything should be fine now.