If you're living in the 21st Century, you must have heard of portable applications or apps for those of us who really do live in this Century. If not however, we've got you covered right here.
Portable Browsers
Yes, you have that right. You can use your own custom browser with your saved passwords, bookmarks and even extensions on whatever device you choose to use, without having to go through the process of re-adding them.
Google Chrome, Mozilla Firefox and Opera are among the browsers that can be used as portable Apps. The process of installation and use is simply standard for most if not all portable apps.
Portable Chrome
On the Portable Apps page, navigate to the left side of the pane and click on Internet > Google Chrome Portable. Then click on the green download button to download the setup file on to your computer.

2. Connect your portable device, such as a thumb drive to the computer and make sure that you have an internet connection on it.
3. Run the setup file and an installation wizard will prompt you to choose a Language as well as agree to the Terms and Conditions, among other steps.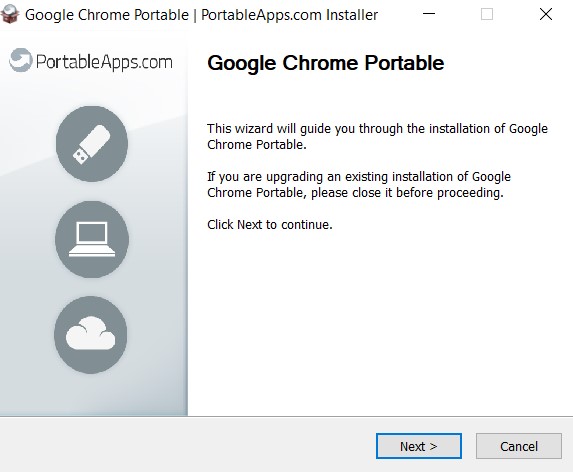 4. After clicking on Next above, you want to choose your thumb drive as the destination folder for installing your Portable Chrome and then click on Install. Allow the installation process to be completed and once it is, select Finish and this will close the installation wizard.
5. Access your thumb drive and locate the GoogleChromePortable executable file and click on it to launch Google Chrome as a portable browser.
6. You will be met with a Welcome to Chrome screen where you can search for stuff on the address bar, sign in to have access to your data and do any other thing that you would on a normal Chrome interface.
So now, you can launch portable Chrome, no matter which device you are on, without having to install it or import your data. In addition, no traces of your app activity will be left on a device that is foreign or borrowed.
You can try this with even more apps that are neatly organized in directories in the Portable Apps page, from games, to image editing software and even utility software you can use to diagnose computer issues.
Very handy indeed.