You can imagine logging in to your Instagram account and getting this error: Unknown Network Error. Not funny, not funny at all.
It is an indicator of network problems when using the application on your mobile phone. This error does not occur when you use the app on the website.
To remedy this problem, you can do the following:-
How To Fix An Instagram Unknown Network Error
Restart Your Mobile Phone
This is your go to 1st step when sorting problems on your phone. Press down the Power button on your phone until it goes off.
Give the phone a minute and then switch it back on. Once on, open Instagram, log in if prompted to and then go right ahead and use the app as you should not encounter the error again.
Check The Internet Connection
If the error persists, check the internet connection. It may have gone down or is super slow.
You can opt to switch it off and then on again and if you are using a Wi-fi connection, turn off the router for a couple of minutes then switch it back on.
Once you do this, try logging in to your Instagram account and you should be fine now.
Check The Date And Time
Check to see that these two settings are correct. If they are not, they may be the source of your error. Go ahead and set them correctly under the Settings application.
It is preferable if you set Date and Time to automatic.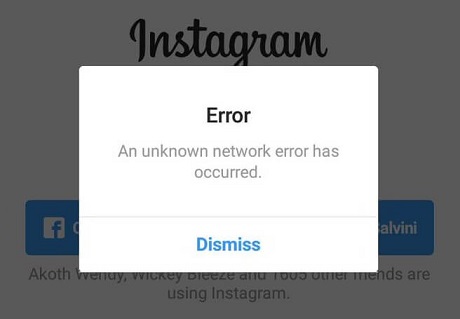 Clear Data And Cache
Another issue that may be bringing up the error is the cache files in your application. You will need to clear them up to stop encountering the error.
To do this, open the Settings application on your phone and then locate and open the Instagram option.
Under the application, tap the Clear Cache option and next up, the Clear Data option.
Now head back to your Instagram account and you should successfully log in with no error.
Update Instagram
There may be some recent updates that you may not have implemented on your phone causing the app not to work properly and show the error.
Updating the app on your phone's Store should be able to remedy the situation. Go ahead and do this and you are bound to have a smooth experience.