Firefox, like any other application, works at optimum level with the latest version available. Updated are designed to improve efficiency and remove bugs in the browser.
Older versions of Firefox used to be prompted to download and install updates. But Firefox has evolved over the years and now downloads updates automatically by default.
As you use the browser, it downloads updates in the background as soon as they are available. These downloads will be kept and installed the next time you restart your browser. So as long as you're active on the internet with Firefox, rest assured your browser is updated automatically.
WATCH: How to Update Firefox
To confirm this, you can check what version of the browser you're using by opening the 'About Firefox' page. Click the menu button
, click help
and select About Firefox.
You can also use this if you feel that your browser is taking too long to automatically update. If there are any uninstalled updates, they will automatically be downloaded after which you will click 'Restart' to have them installed.
If for some reason you're having trouble installing Firefox updates or having them automatically installed, you can download and install the latest version of Firefox. This will overwrite the old version in your computer.
Also Read: Use Firefox In Your Preferred Language
You ca also change the automatic update settings to control how updates get installed in Firefox on your computer. Click the menu button and select options. Click on Advanced tab from the left hand side panel. Then select the 'Update' tab.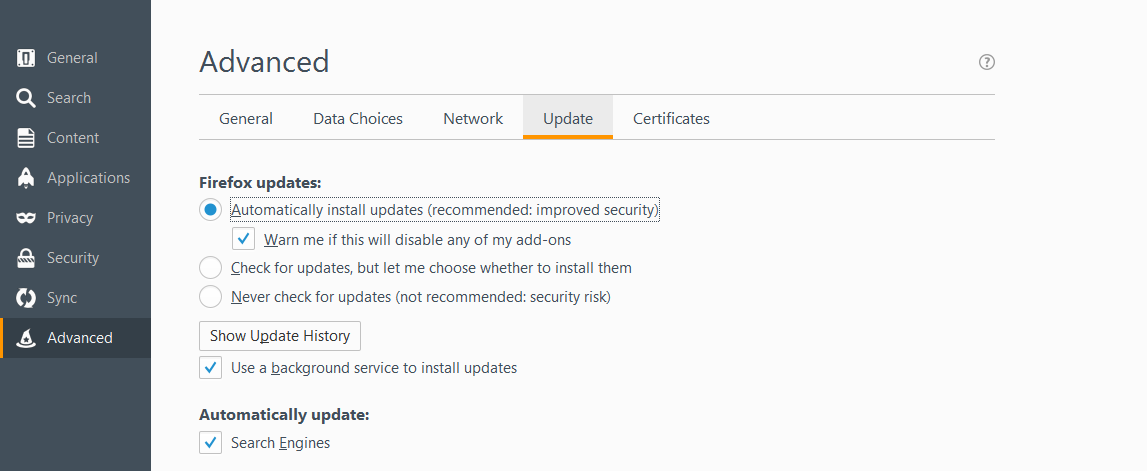 On this page, you can select how you want updates handled in your browser. You ca also view your update history by clicking on the button right there. Then finally, you ca select whether you want your Firefox search engines updated automatically.
Watch: For more info, watch this Firefox Update video tutorial.