When you read an interesting article on the internet or watch an interesting video, you would like to read or watch again in future, you will bookmark it. Without the Firefox bookmark feature we would have to copy the url of the web page and paste it somewhere, maybe on notepad. which is hectic.
Firefox makes it very easy for users to create bookmarks for web pages they have been visiting and also access these bookmarks.  Of all the browsing data collected,  bookmarks are the most important, and like any other important data, it is good practice to back up.
In case your browser or computer crashes and you cannot access your bookmarks,  you will wish you had backed up them up.
Automatic Backup:
Believe it or not,  the browser automatically backs up your recent bookmarks.  Firefox will automatically back up bookmarks you have created in the last 15 days.  You can access and restore these bookmarks by opening the bookmarks library. With Firefox open, press Ctrl + Shift + B.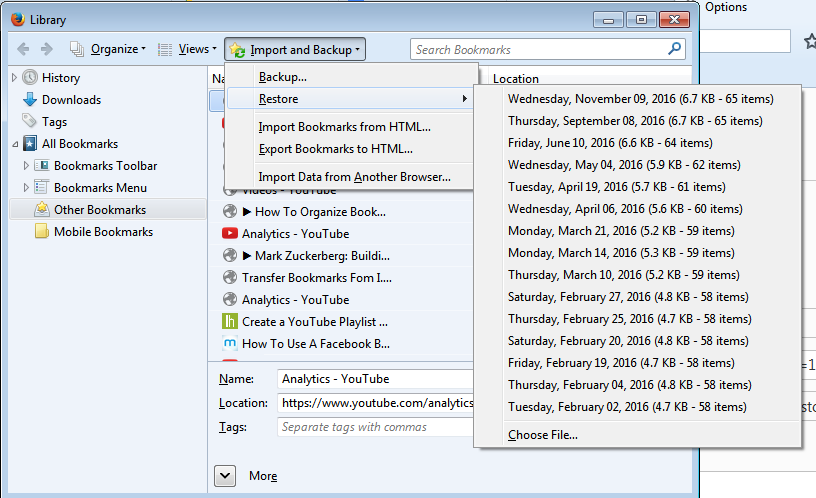 Manual Backup:
As much as the automatic backup is seamless and effortless,  it does not back up bookmarks more than 15 days old.  A manual back up is required if you want to store all your bookmarks.
To manually backup Firefox bookmarks,  you will use the 'Export bookmarks to HTML'  function.  Open the bookmarks library as shown above,  click on 'Import and Backup'  then select 'Export Bookmarks to HTML'.
A window will pop up where you can choose where you want to save the html file that will be generated containing all your bookmarks.  You can give it a name.
If you want,  you can save the HTML file on a cloud service like Google Drive so that you can access it even when your device or computer crashes.
The HTML file containing bookmarks can be imported into another Firefox browser on another computer.
Firefox Sync:
If you have a Firefox sync account,  it keeps your bookmarks and can synchronize your bookmarks across all the devices on which you use Firefox.  Read more on Firefox Sync