Chrome, Firefox and Opera are the most widely used browsers on desktop PC's worldwide. Among other qualities these browsers have,  their ability to manage our passwords for us is phenomenal. Google Chrome and Opera go the extra step of protecting access to the password manager from unauthorized access.
You need to Enter a master password to access the password manager. For Chrome and Opera, the master password is the computer's password. Before you can view passwords saved in the password manager you have to Enter the computer's password.
The Firefox password manager doesn't protect its passwords with a master password by default. If you stepped away from your computer for 10 minutes,  someone can get in and read all your passwords stored by Firefox without requiring any kind of authentication.
Set a Master Password For Your Firefox Passwords:
To set up a master password for Firefox, click on the Firefox menu and select the options (cog) icon. Then click on Security.  You can also get to the security settings page by pasting this url in the address bar. about:preferences#security
Check the box that says Use a Master Password. A pop up window will appear for you to define a good master password.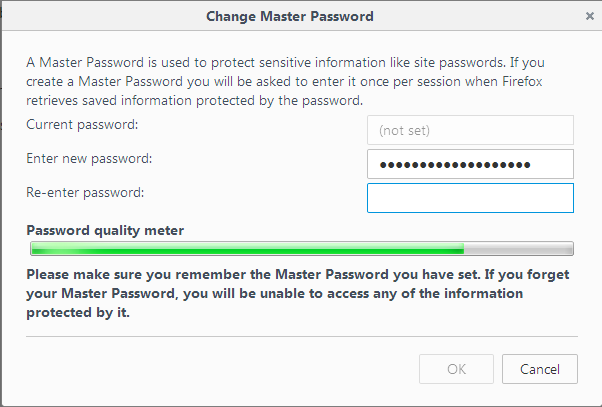 You'll be guided by a password quality meter to ensure you define a good password. You can find the general qualities of a good password here.
When you have a master password activated,  you'll be required to enter it once during every browsing session. When you try to access the password manager,  you'll be required to enter the master password before you're granted access.
The master password for Firefox's password manager is independent of the computer log on password unlike in Chrome and Opera. This means you can change the Firefox master password at any time you want without affecting the computer's password and vice versa.
To remove the master password, go to the security settings page again and uncheck the 'Use MAster password' check box. You'll be required to Enter the password to complete the process.