Staring at a bright white screen can be harmful to your eyes. Long hours of play might cause headaches and get tougher to stare at the screen.
Luckily for Roblox, it has a dark mode extension that helps users to play safely. The dark mode, also known as night mode dulls the screen and provides black background that doesn't affect the human eye.
It's both available for desktop and PC. If you're playing on your smartphone during late hours, you simply can turn dark mode on and your eyes won't be harmed. Here is how to go about it:
Enable Dark Mode on Browser
This is a very simple and easy process, and can be done with just a few clicks. The instructions below will guide you on how to go about it.
First, go to the Roblox website on your favorite browser and log in to your account. Type in your username and password to sign in to your Roblox account.
Click on the gear icon located at the top right part of the page and select Settings. Under the settings page, scroll down to Theme.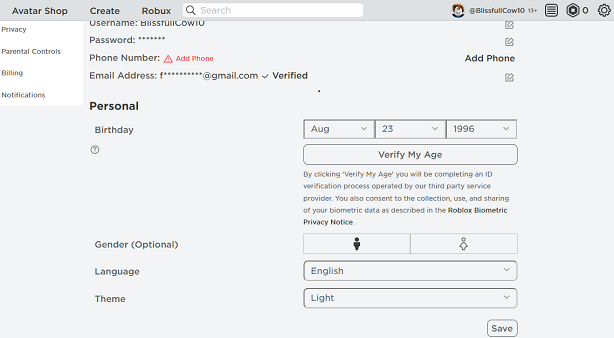 By default the theme is usually light click on the field and select Dark. To apply the changes click on Save. For those who have Parental Controls enabled, you need to type in your PIN to save the changes.
Also read: How To Set Up Parental Controls on Roblox Account
Enabling Dark Mode on Mobile App
The process of changing to a dark theme on both Android and iOS is pretty much the same and doesn't require much. Follow the below instructions;
Open your Roblox app and sign in if you're not automatically logged in. Once done, on the lower right of your screen, tap on the three dots and scroll down to Settings.
Click on Account info under the settings page and scroll down until you find Theme. Tap on the textbox and select Dark, tap Save to keep changes. For those with parental controls on, you might be prompted to key in your PIN to successfully apply the changes.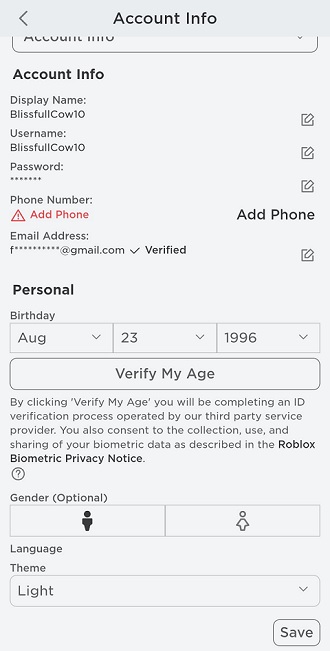 Now your app is in dark mode. Let me know if it worked under the comment box below.