Like YouTube videos you can embed Google slides presentations in your website or blog using some html code. This is one of the features Google slides that Microsoft Powerpoint couldn't provide for many years without involving a third party.
To embed a Google slides presentation,  open it or create one here. When you are done with the editing and polishing of the presentation, click File then select Publish to the Web. A window like this will pop up.
Click on the 'Embed' tab. Select the size you want the presentation to have and the slide interval time using the drop down menus. Yo can also choose whether the slide show will start as soon as the web page is loaded and whether it should play in an infinite loop using the check boxes. All the preferences will be transferred to the embed code.  Click Publish.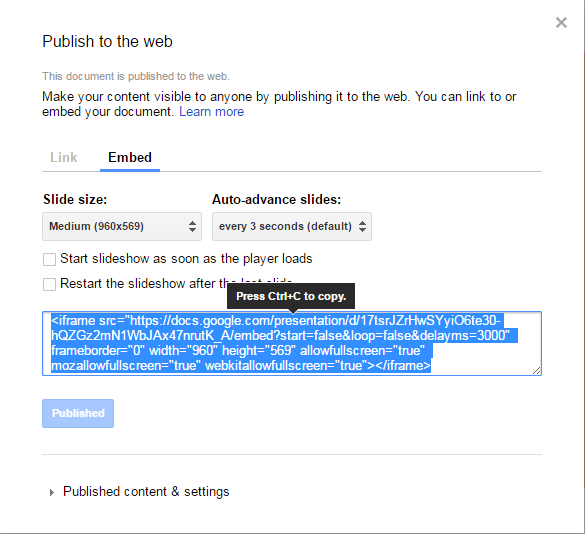 The html code will be generated for you to copy and paste in your website or blog.  You have to open your website/blog's html editor before you paste this code. The slideshow will now go live on your web page and users can interact with it.
Embedded Google Slides Presentation:
Here is an example of a simple Google slides presentation I have embedded on this page.
The embedded presentation has the Google Slides water mark,  a few control settings for the viewers on your page.  They can use the arrows to move from slide to slide manually or click on the 'Play' button to allow the slides to play automatically with the intervals you set.
The laser pointer allows users to accurately point things on your presentation while demonstrating.  Be careful about putting prohibited content like images and videos in your slide show. Users can easily report to Google.