Many years ago, before Google slides and Chromecast,  presentations were made by connecting your laptop to a projector and then the projector shined the presentation slides onto a white surface on a wall or a white piece of cloth. Then came TVs with VGA ports and HDMI ports that made the whole process simpler.
In this wireless digital age, we are trying to get rid of wires and cables as much as possible. You can now make presentations on a TV from your laptop/PC or smartphone without a single wire thanks to Chromecast.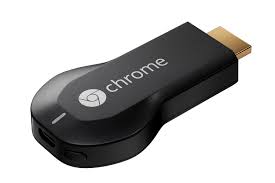 Chromecast is a wireless dongle that you plug into your TV's HDMI port and connects to your wireless network. The device hen allows you to cast streaming apps from your phone /laptop onto the TV to give you a bigger display.
Google slides is an online presentations app designed by Google where you can create, save, edit and publish high quality presentations online.
With Chromecast and Google slides, you can cast your presentation from your smartphone onto the big screen TV and control the slides from your phone.
How To Cast The Google Slide Presentation Onto The TV:
To get started first create the presentation using Google slides. If your presentation is already created in Microsoft power point, import it into Google slides.
You need to have the Google slides application on your Android or iOS device.  Open the app and then open the presentation in your phone.  With the presentation open, tap on the casting icon at the top as shown in the video below.
As usual your phone/laptop needs to be connected to the same Wifi network as the Chromecast.
To cast the presentation from your PC/laptop, install the Google cast extension in your browser. Then click on the arrow in the 'Present' button. Select your chromecast device and the presentation will be cast on to the television.
This is a new state of the art way you can use to give presentations straight from your phone onto a huge big screen TV and avoiding the projector and unnecessary cables.