You've probably heard the phrase 'Drop pin!' before. It's almost impossible to not have heard it. It's simply a casual way of asking someone to share with you the digital GPS location of a place you're intending to go.
Once that pin has been availed (dropped) to you, then you need to know how to use it to get to the place, share it, save it, e.t.c.
How To Drop a Pin In Google Maps
Google maps is the most popular maps service and that's where we start. You can drop a pin of your own location or any other location known to you.
Sharing Your Location:
Open Google maps app and find the blue dot that represents your current location on the map. Zoom in by pinching outwards with two fingers to get the most accurate location on the map. Then tap and hold on the blue marker and this will create a temporary pin on your location.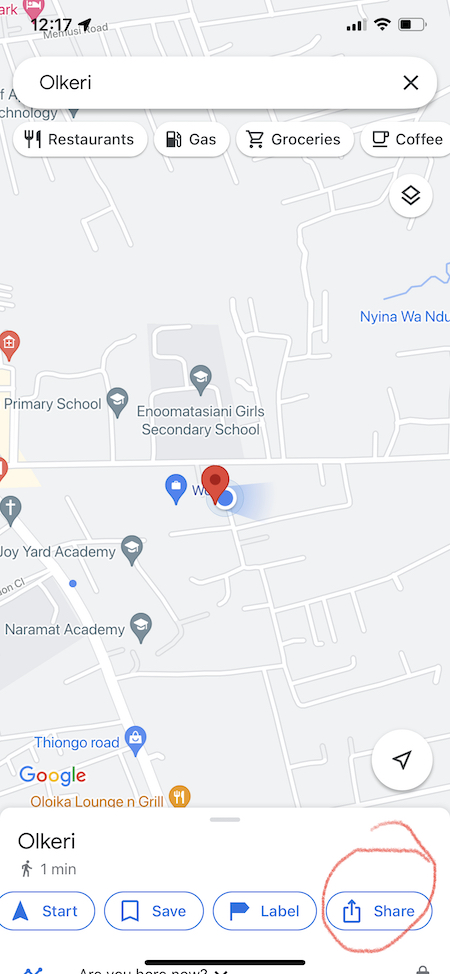 Then a menu will pop up and you can swipe to find the 'Share' option. Tap on that and choose how you want to share your location. Then proceed to share that PIN location. You have now dropped a Pin!
Also Read: How To Always Get Directions To Home In Google Maps
Sharing Your Live Location (Drop Live Pin)
If you're on the move, you might want to share your live pin location. The person you send to will see your movements on Google maps in real time.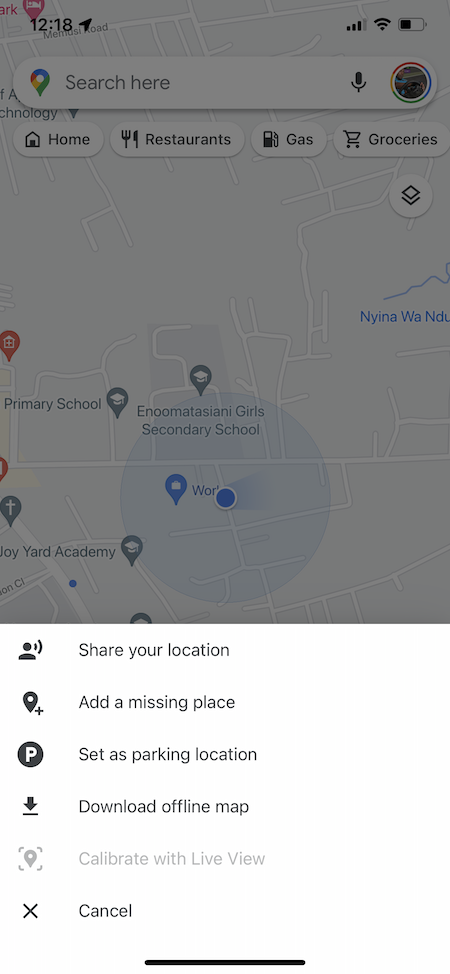 To send live location, tap on the blue marker once (instead of tapping and holding) and from the menu that pops up, select 'Share Your Location'. A list of your Google contacts with Google maps will appear first. Tap on 'More Options'. to see other sharing methods; then choose the one you want to use.
A dropped live pin can be active for a minimum of 15 minutes to a maximum of 24 hours. Google maps will need to access your Location even when you're not using the app since it needs to constantly get your live GPS coordinates to share with the recipient.
How To Open Dropped Pin In Google Maps
The way you open and use a pin location that's been dropped to you mainly depends on how it was sent and what you're trying to do with the information.
The default maps app on Android devices is Google maps. Apple devices have their own Maps application but you can easily install Google maps from the App store.
All pin locations dropped from Google maps application will automatically open in Google maps on the recipient's phone/tablet. You should see a red marker on the map showing you the exact pin location on the map.
All you need to do is open the message that the pin location was sent in. The pin location is usually a shortened link that looks something close to https://goo.gl/maps/9qbgk7ld6………. All you need to do is tap on that link and it will open in Google maps.
Then you can choose to either get directions to the place, Start the journey, save the pin location or even share it with someone else.
How To Open Whatsapp Dropped Pin In Google Maps
The whatsapp application can also send geographical Pin locations. Opening a Whatsapp Pin location in Google maps is easy especially on Android phones. Simply tap on the location in the message to open it.It will open in Google maps.
For Apple devices, there's a default Maps app. That's the default app. To open Whatsapp pin in google maps on iphone / iPad, tap on the location in the message. Then tap on the car icon and select 'Google maps'. The location will now be opened in Google maps. ( Make sure you have Google maps installed first).
Watch: Google Maps Directions
Things You Can Do With a Dropped Pin In Google Maps
Any time you open a pin location in Google maps, you have options of things you can do with it. These options are usually in the menu at the bottom of the screen as soon as you open that location.
Get Directions
You can tap on the 'Directions'. option and this will give you directions from your current location to the pin location you received. If there are more than one routes to the location, Google maps will show the other routes in grey color with ETA timestamps on them. From here you can see and maybe decide the best route to take.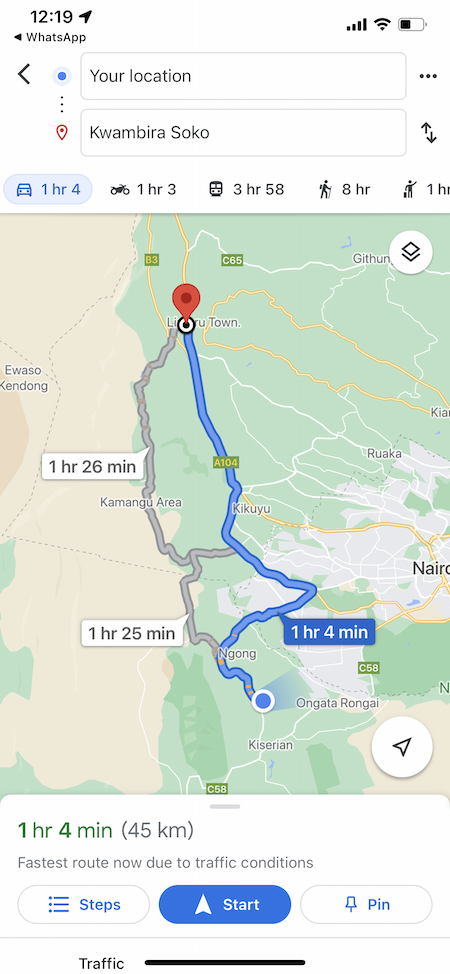 You can even see directions to the dropped pin via different modes of transport. The selector for mode of transport will be at the top of the screen.It gives driving directions by default but you can change to motorbike, train walking e.t.c.
Get Navigation Assistance
Google maps will give you navigation assistance to guide you every step of the way until you get to the dropped pin location. Simply tap on start, and it will start guiding you. There's also a Google assistant that will give you audio navigation tips and instructions.
Save
You can save a dropped pin location so that you can maybe access it later when you need to use it. Open the pin location and copy the GPS coordinates. Then go to the Google maps home page and paste the coordinates in the search bar at the top. This will open that pin. Tap on Save and that should open the save menu where you can proceed to save that location. Make sure you name it appropriately.
Share
You can also share Pin locations that have been dropped to you with someone else. Simply tap on the share option and you'll see options you can use to share that pin location with someone.
Get Distance Estimates and ETA
If you're not very familiar with a place, a pin location of that place dropped to can be very useful when opened in Google maps. As soon as you open, you'll see the estimated distance between the two locations. When you open directions to the location, you'll see the amount of time each direction takes and estimate your arrival time.
Set Reminder To Leave On Time
Once you open a dropped pin and see directions to the location, you can scroll all the way down and you'll see the option to Turn on reminder. You'll be required to pick a time you want to leave, or even better, when you're planning to arrive. The reminder will keep checking the traffic conditions along your planned route and remind you to leave in good time.