It's Christmas time and you want to replace your whole music playlist with Christmas carols and new year songs. Or maybe you have a less weird reason to want to clean your iPhone of all it's music.  It's quite easy to delete one song,  or a couple of songs; maybe even an album.
But if you have hundreds of songs stored locally on your iPhone like me, and you want to delete them all at once, you need to see this. Deleting with itunes on your Mac or Macbook should be easy but there's an easier way to do it directly from your iPhone.
How To Delete Music From iPhone
Tap on Settings icon to open the settings app. Then scroll to and tap on General. Then go to iPhone Storage. It might take some time to calculate the storage spaces depending the amount of data you have.
Then tap on music and you should be able to see how much space music is occupying on your iPhone. You'll also see a list of all the songs on your phone. Tap on Edit. The music is usually organized on artist to artist basis. So you can tap on any artist and delete all the songs from that artist.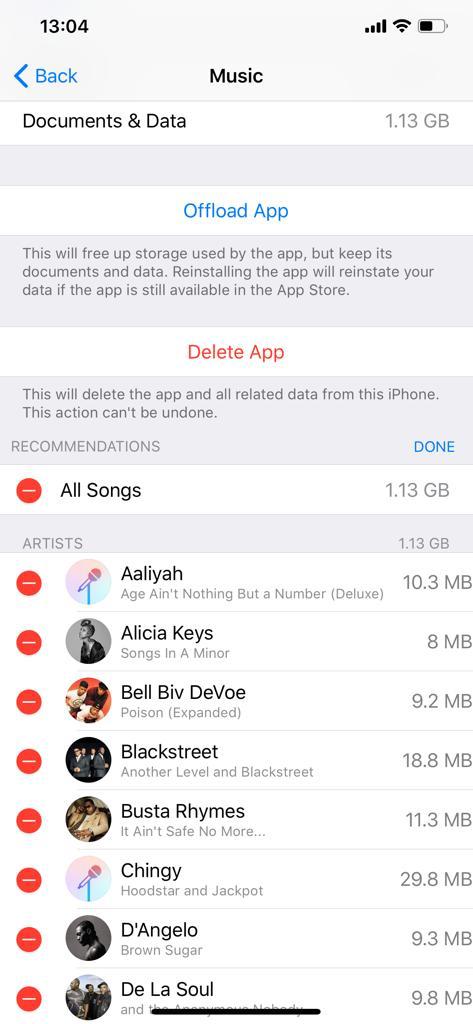 Or you could just tap on the 'All Songs' option to delete all songs from your iPhone. It should take a few seconds to have all those songs deleted.
With an Apple Music subscription, you can still re-download any songs you want in the future. There are also other ways of sending music to your iPhone with iTunes and Apple Music alternatives. Modern iPhones have enough internal memory to keep all the music you might need. Like this 256GB iPhone XS Max.
But if you have internet all the time, it's better to stream directly and reserve space on your iPhone for other things like Games.
Also read: Top 4 Spotify Alternatives