Facebook comments are exciting conversation starters and generally make the Facebook experience interesting. Facebook comments also give marketers insights on their products and provide a platform for producers to interact with their customers.
On the flip side  just like in face to face conversations, you or someone else might make an inappropriate comment that you wish you would take back.
Fortunately Facebook literally allows you to take back foul comments you make on other peoples Facebook posts. You can also take down other people's inappropriate comments from posts you have made on Facebook. Here's how to delete a comment on Facebook.
How To Delete a Comment I posted On Facebook:
To delete a comment you posted, find the post you commented on, hover your mouse pointer over the comment and you will see a menu (…) on the right side of the comment.  Click on it and select 'Delete'.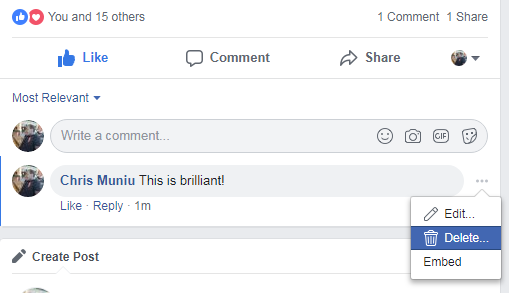 If you are using the Facebook app on Android, open the comments page of the status,  touch and hold the comment you made and select 'Delete'.
The best way however is to navigate to the Activity log page from the Facebook menu.  In the activity log,  you will see the comment you made.  On the right side of the comment,  touch the little arrow and select 'Delete'.  The comment will be deleted.
How To Delete Someone Else's Comment On Your Facebook Post:
You can delete comments made by other people on posts you have made on your Facebook timeline or on your Facebook page.
All you need to do is hover your muse pointer o the comment you want to delete, click on the menu (…) on the right side of the comment. Then confirm you want to delete that comment.
If you have a user that keeps making inappropriate comments on your posts, you can block him/her from your Facebook timeline or page.