There are plenty of legitimate reasons you might want to convert PDF to JPG. The way you do it depends really on what you are trying to achieve. JPG file format is easily viewable and can be manipulated by most free software in our operating systems.
Whether it's the entire document you want to convert into an image or you want to save the images in a Pdf format into jpg format.,  here are the different methods you can use to achieve this conversion.
If you have a pdf document you want to convert to jpg, you can take a screenshot of the document. Then use an application like paint to save the screenshot in jpg file format. This will only work for a single page that can fit in your computer screen without scrolling.
PDF to JPEG App is a free application in the Windows app store that converts PDF to JPG without any trouble. The app has a minimalist design and it's fairly easy to use. It lets you select where the final jpg file will be saved. If you have Windows 8 or 10,  check this app out.
If you're on Mac, you can convert PDF files to JPG using the Preview utility. Open the PDF using 'Preview on your Mac. Then click on File and select 'Export'.  In the Export format section, set the Format to JPEG and select Save to finish up.
Online PDF To JPG Converters:
If you don't have Mac or Windows 8 and later,  you can still use these online solutions to achieve thhe pdf to jpg conversions. The best thing about online tools is that they can be used with any browser on any operating system including your mobile devices.
There are plenty of web tools that can help you with this conversions. Some work differently from others so it's up to you to choose which one suits you best.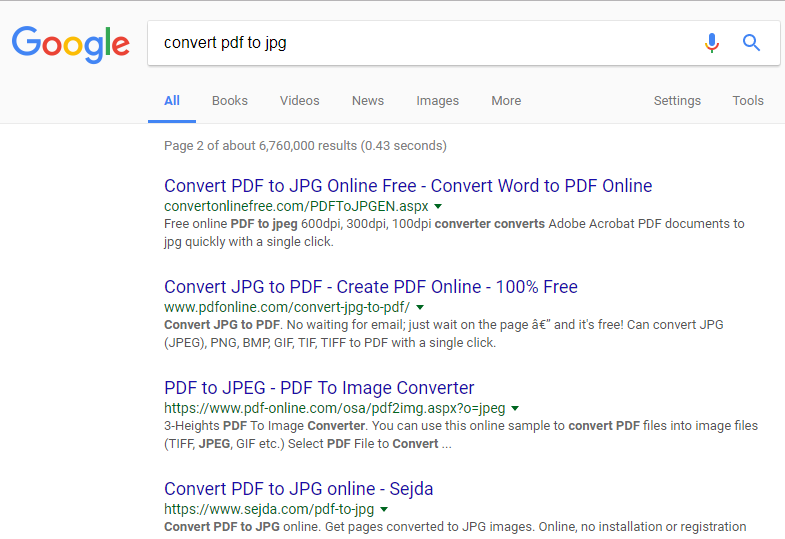 To find these online tools, simple use your favorite search engine and search 'convert pdf to jpg'.  Most of the results you get are online tools that are capable of getting the job done.