The Samsung Galaxy Z Flip 5 is a cutting-edge smartphone that combines a compact design with the convenience of a folding screen. Like any modern smartphone, it runs on Android OS, offering a multitude of apps and features for its users.
Occasionally, you may find yourself with multiple apps running in the background, which can impact your device's performance and battery life. Learning how to properly close apps on your Samsung Galaxy Z Flip 5 is essential to ensure smooth operation and efficient resource management.
Here's how you can close applications on your Samsung Galaxy Z Flip 5
Watch: How To Copy SIM Contacts To Samsung Galaxy Z Flip 5
To Close Apps On Samsung Galaxy Z Flip 5
To begin, swipe up from the bottom of your screen, and then pause in the middle of the screen. This action will bring up the Recent Apps menu, displaying all the apps you've recently used. If you're using physical buttons, tap on the "Multitasking" button (at the bottom left corner) to access the Recent Apps menu.
Next, swipe left or right to navigate through the apps and find the application you'd like to close. At this point, swipe up or down to close the application. If you want to close all open apps at once, tap on the "Close All" button.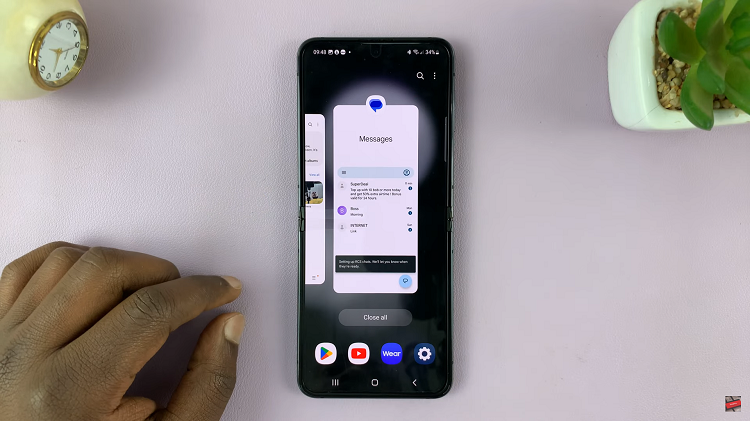 By following the steps outlined in this guide, you can easily navigate the process and enjoy a smoother smartphone experience. Let us know in the comment section below if you have any questions or suggestions.
Read: How To Use Any Video as Cover Screen Wallpaper On Samsung Galaxy Z Flip 5