The Samsung Galaxy Z Flip 5 is a remarkable piece of technology, featuring a foldable design and a range of advanced features. One of the features that enhances its convenience is NFC (Near Field Communication) and contactless payment capabilities.
NFC enables seamless communication between devices when they are brought close together, while contactless payment allows you to make transactions using your smartphone without the need for physical cards.
In this guide, we will walk you through the steps to enable /disable NFC as well as set up contactless payment on your Samsung Galaxy Z Flip 5.
Watch: How To Close Apps On Samsung Galaxy Z Flip 5
To Enable /Disable NFC & Contactless Payment On Samsung Galaxy Z Flip 5
Firstly, access the "Settings" app on your device. Swipe down from the top of the screen to open the notification panel. Then, tap on the gear-shaped settings icon in the upper-right corner, or you can access the "Settings" app through the app drawer.
Next, tap on "Connections" and find the "NFC and Contactless payments" option. At this point, tap on the toggle switch to the ON position to enable it. To disable this feature, tap on the toggle switch to the OFF position.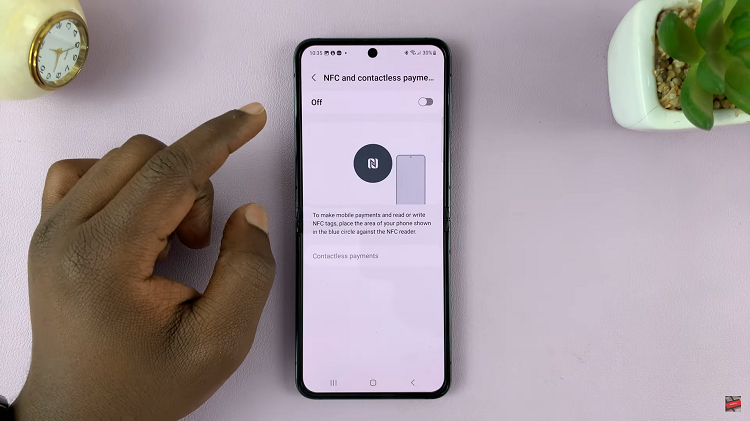 By following the steps outlined in this guide, you can take full advantage of these features and simplify your everyday interactions and transactions. Let us know in the comment section below if you have any questions or suggestions. Feel free to share the article with someone who needs this information.
Read: How To Turn 'Customized Samsung Health' On & Off Samsung Galaxy S23