Whether you're using your Google Pixel tablet for work, entertainment, or communication. Having a fully charged battery can make a significant difference in your device's performance and your overall experience.
While the default charging settings of many devices are designed to protect battery health. You might find yourself wondering how to unlock the full potential of your Google Pixel tablet by charging it to 100%.
In this article, we will delve into the step-by-step process on how to charge the Google Pixel tablet to 100%. Before continue, ensure that your Google Pixel tablet is connected to the dock or a type C charger.
Also Read: How To Add a Screen Lock Pattern To Google Pixel Tablet
How To Charge Google Pixel Tablet To 100%
Once your tablet is connected to power, unlock the device and navigate to the "Settings" app. Within the Settings app, scroll down the left panel until you find the "Battery" option. Tap on it to access the battery settings.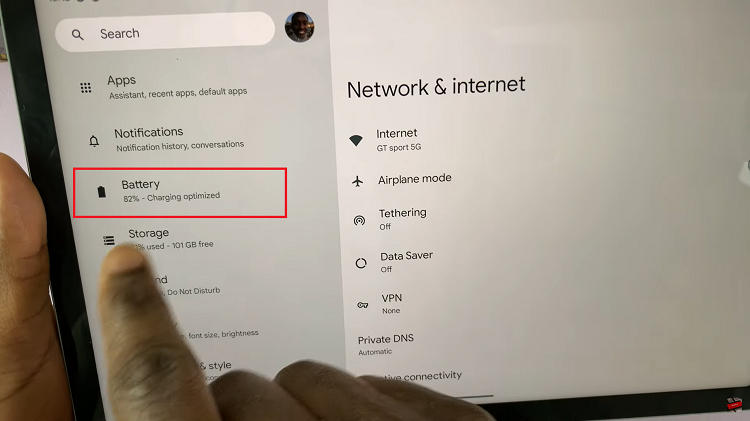 In the battery settings, you might notice a feature named "Charging Optimized to Protect Battery." This feature is designed to extend the overall lifespan of your battery by limiting its charge to around 90%.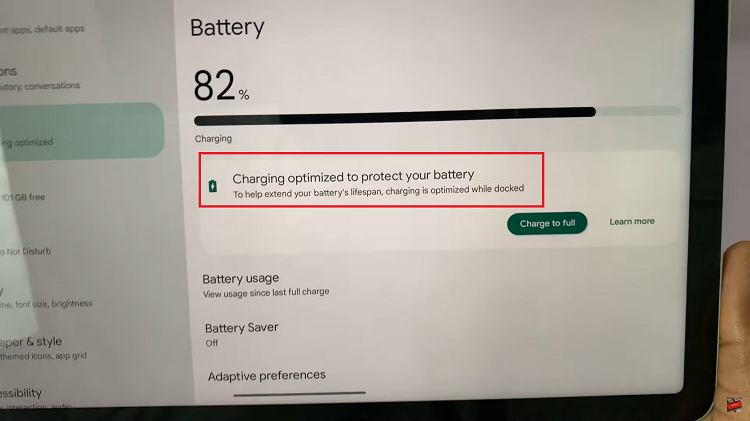 Under the Charging Optimized to Protect Battery label, you'll see a button underneath that says "Charge To Full." Tap on this to enable your tablet to charge until 100%.
With the setting enabled, you're now all set to charge your Google Pixel tablet to 100%. Simply plug in your tablet to the power source as you normally would.
Watch: How To Connect Bluetooth Keyboard To Google Pixel Tablet