The Samsung Galaxy S23, known for its advanced features and user-friendly interface, offers a wide range of customization options to enhance your smartphone experience. Among these options is the ability to adjust the wheel scrolling speed for a connected mouse.
This feature can be particularly handy if you use your Samsung Galaxy S23 for productivity tasks, web browsing, or any other activity that involves scrolling through content.
In this article, we'll guide you through a step-by-step process on how to change the wheel scrolling speed for Mouse on your Samsung Galaxy S23.
Also Read: How To Turn 'Block Offensive Words' For Google Voice Typing On & Off Galaxy S23
How To Change The Wheel Scrolling Speed For Mouse On Samsung Galaxy S23
Begin by navigating to the "Settings" app, which typically resembles a gear. In the Settings menu, scroll down and tap on the "General Management" option. Within the General Management settings, you'll find various options. Locate and tap on "Mouse and Trackpad."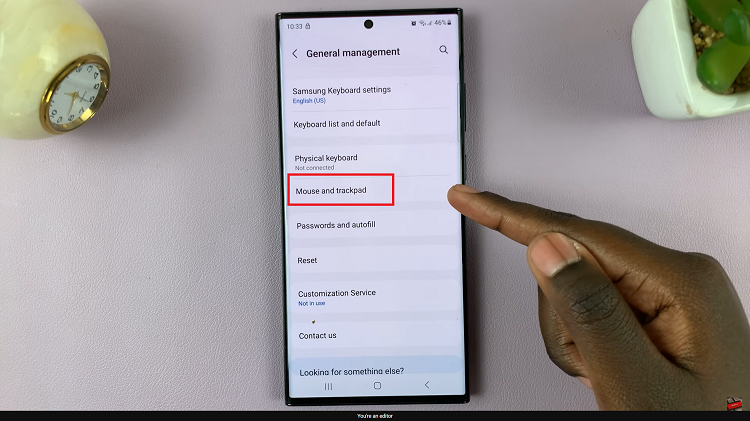 In the Mouse and Trackpad settings, you should see the option labeled "Wheel Scrolling Speed." This is where you can customize the scrolling speed according to your preference. Below the option, you'll find a slider that you can move left or right.
To increase the scrolling speed, slide the slider to the right. This will make scrolling faster, allowing you to move through content more quickly. Conversely, if you prefer a slower scrolling speed, move the slider to the left.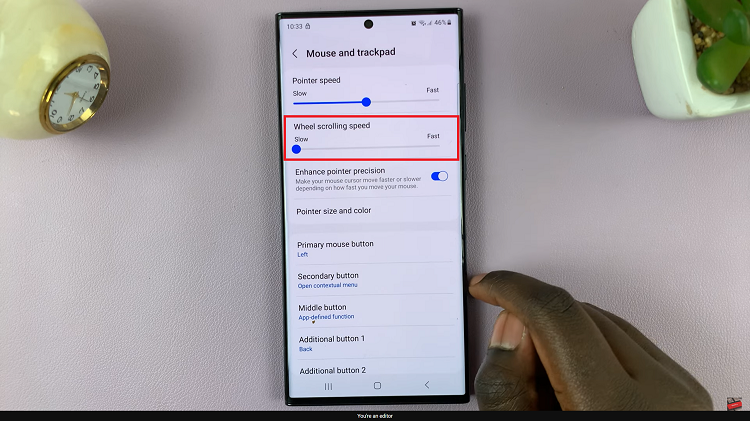 After making your adjustments, it's a good idea to test the scrolling speed to ensure it suits your liking. Open a webpage or app that requires scrolling and try it out. If it feels too fast or slow, you can return to the Mouse and Trackpad settings to fine-tune the scrolling speed.
Watch: How To Customize The S Pen Air Actions For Individual Apps On Samsung Galaxy S23 Ultra