When you play a match on FC 24 Mobile, there's the half-time period whereby you can adjust team tactics and players. The switch in playing side at half time is typically automated and is a fundamental aspect of the game to ensure fairness and mimic real-world soccer matches.
However, this is not the case with FC 24 Mobile. But luckily, there's an option within the game that helps you tweak these changes.
In this tutorial, we will guide you through on how to change sides at halftime on FC 24 Mobile.
Watch: How To Hide Radar On FC 24 Mobile
To Change Sides At Half Time On FC 24 Mobile
First, launch the EA Sports FC Mobile game on your mobile device. Next, access the settings menu. You can usually find this icon represented by a gear or cogwheel symbol, typically located in the top-right corner of the screen.
Within the settings menu, tap on "Gameplay" then scroll down and find the "Change Attack Direction At Half Time" option. At this point, simply toggle the switch to the "ON" position to enable this feature. Subsequently, to disable it, toggle the switch to the "OFF" position.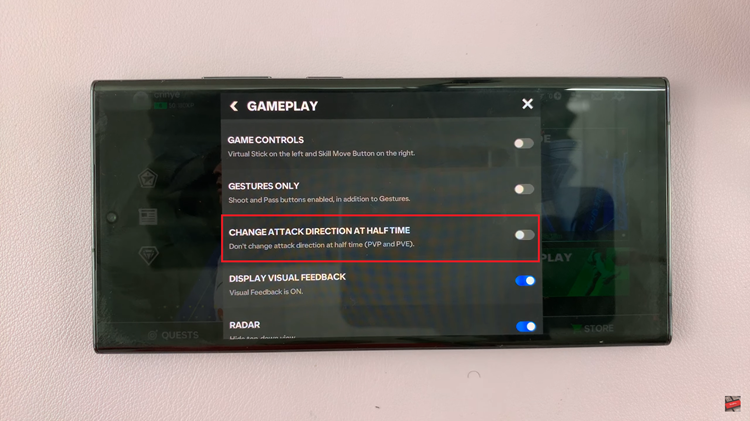 By following the steps outlined in this article, you can easily learn how to change sides at half time on FC 24 Mobile and enjoy more control over your gameplay. Let us know in the comment section below if you have any questions or suggestions.