The Samsung Galaxy Tab S9 Series is a powerful and versatile lineup of Android tablets that offer a wide range of features and customization options. One of the lesser-known but highly useful features of these tablets is the ability to connect a mouse and use it as a pointer for more precise navigation.
However, not everyone may be aware that you can also change the mouse pointer's size and color to suit your preferences.
In this article, we'll walk you through the steps to change the mouse pointer size and color on your Samsung Galaxy Tab S9 Series tablet.
Watch: How To Connect Bluetooth Speaker To Samsung Galaxy Tab S9
Change Mouse Pointer Size & Color On Samsung Galaxy Tab S9
To begin, unlock your Samsung Galaxy Tab S9 Series tablet and locate the "Settings" app. You can find this app either on your home screen or in the app drawer. Once you're in the Settings app, scroll down to find and select "General Management."
Within the General Management section, look for and tap on "Mouse and Trackpad." Now, tap on the "Pointer size and color" option under the mouse and trackpad menu. At this point, use the Pointer Size slider to increase or reduce the pointer size.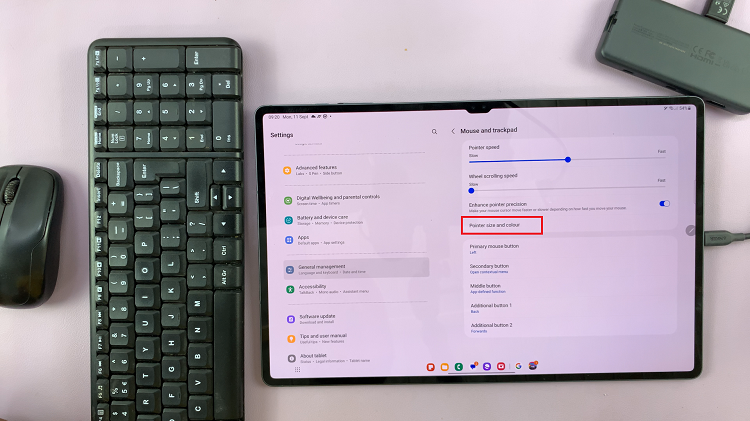 If you want to change the color of your mouse pointer, tap on any of the colors that you'd prefer from the available colors. After customizing the pointer size and, if desired, its color, exit the settings, and the changes will be applied.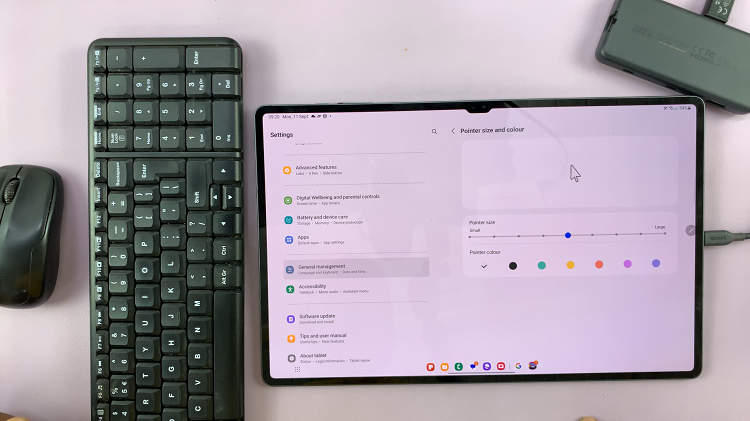 Now, your mouse pointer on the Samsung Galaxy Tab S9 Series tablet should reflect the size and color preferences you've selected. This customization can be particularly helpful if you have vision impairments or if you simply want to make your tablet's interface more comfortable and visually appealing.
Read: How To Set Up Face ID Unlock On Samsung Galaxy Tab S9 Series