In an era where convenience and security are paramount, facial recognition technology has become increasingly popular. While Samsung devices have traditionally relied on their Face Recognition feature, the latest models such as the Samsung Galaxy Tab S9, S9+, and S9 Ultra might offer a more advanced Face ID-like experience.
With the face ID feature enabled, you can quickly and easily unlock your tablet with just a glance, making it a more seamless and secure part of your daily life.
In this article, we will guide you on how to set up Face ID unlock on your Samsung Galaxy Tab S9, S9+, or S9 Ultra.
Watch: How To Connect Wireless Mouse & Keyboard To Samsung Galaxy Tab S9
To Set Up Face ID Unlock On Samsung Galaxy Tab S9
Begin by unlocking your Samsung Galaxy Tab S9, S9+, or S9 Ultra using your current unlocking method. Next, swipe down from the top of the screen to open the notification panel, then tap the gear-shaped "Settings" icon. In the Settings menu, scroll down and select "Security & Privacy."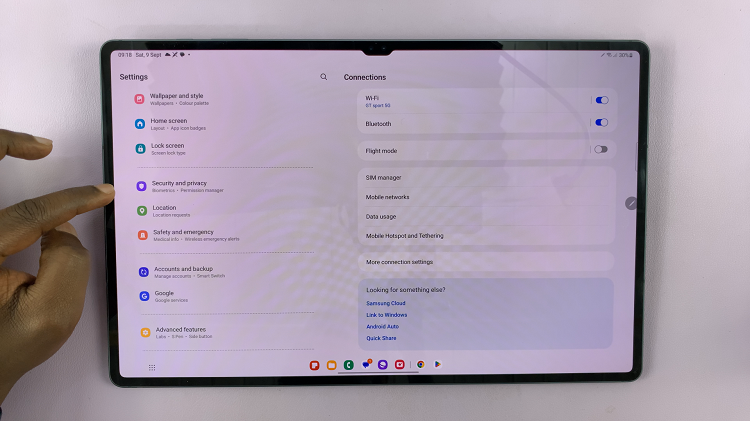 Now, scroll down and tap on "Biometrics" then select the "Face Recognition" option. If you haven't already set up a PIN, pattern, or password, the device will prompt you to do so as a backup unlocking method. Follow the on-screen instructions to create your backup.
Now, you'll be guided through the process of setting up your facial recognition. Position your face within the designated area on the screen and follow the prompts to capture your facial data. Once the setup is complete, your Samsung Galaxy Tab S9 will use facial recognition to unlock the device.
In conclusion, setting up Face ID unlock on your Samsung Galaxy Tab S9, S9+, or S9 Ultra is a straightforward process that enhances both the security and convenience of your device. Let us know in the comment section below if you have any questions or suggestions.
Read: How To Take Screenshots On Samsung Galaxy Tab S9 Series