The Samsung Galaxy Tab S9 is a versatile and powerful tablet, but there are times when you might want to keep the screen on for an extended period, especially when it's charging.
Whether you're watching a movie, following a recipe, or using your tablet as a digital photo frame, keeping the screen awake can be quite handy.
In this article, we'll guide you through a step-by-step process on how to set the screen timeout to never while charging on your Samsung Galaxy Tab S9.
Also Read: How To Charge S Pen On Samsung Galaxy Tab S9
How To Set Screen Timeout To Never While Charging On Samsung Galaxy Tab S9
The first step is to open "Settings" app. In the Settings menu, scroll down the left panel and tap on the "About Tablet" option. Inside the About Tablet section, look for the "Software information" option and select it.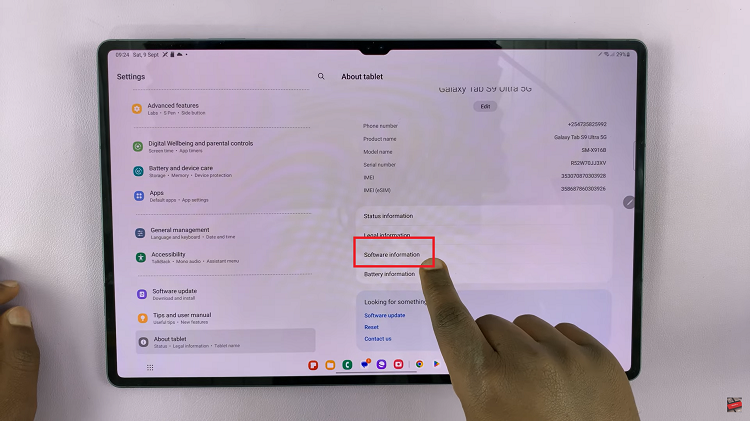 In the "Software information" section, you'll find an option called "Build Number." To enable Developer Mode, you need to tap on this option seven times consecutively. After the seventh tap, you may be prompted to enter your PIN, pattern, or other security credentials. This is a security measure to ensure that only authorized users can access developer options.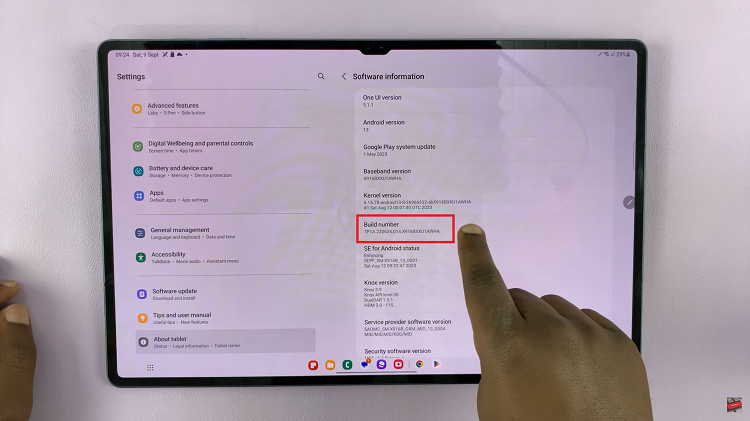 Once you've successfully tapped the "Build Number" seven times and entered your credentials, Developer Options will be enabled on your tablet. You can find it by going back to the main Settings menu and scrolling down. Look for the "Developer Options" entry and tap on it.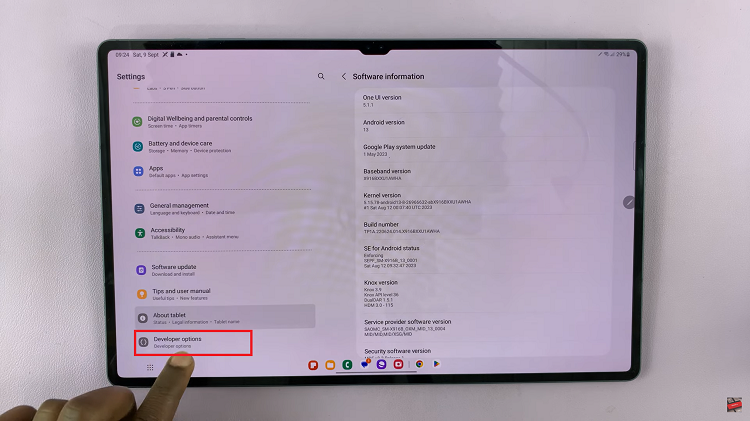 Inside the Developer Options menu, scroll through the list of available settings until you find "Stay Awake." This feature, when enabled, will prevent your tablet's screen from timing out or going to sleep while it's charging.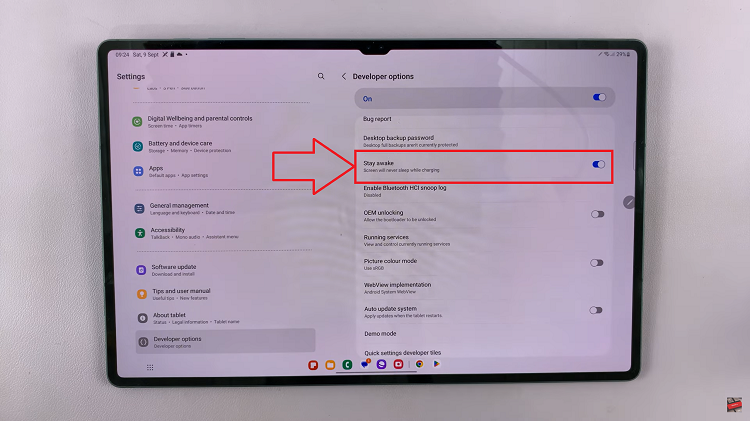 To enable the "Stay Awake" feature, simply tap on the toggle switch next to it. Once it's turned on, your Samsung Galaxy Tab S9 will keep its screen on indefinitely while it's charging.
Watch: How To Force Restart Samsung Galaxy Tab S9 S9+ S9 Ultra