Samsung phones allow users to set their default browser to their preferred app, including Firefox, Google Chrome, or Samsung Internet. This feature lets users access their preferred browser quickly without navigating through multiple apps. It also helps ensure a consistent browsing experience across apps and websites.
Generally, most Android devices come with Google Chrome as the default browser. However, Samsung has its own browser which can be frustrating and annoying to interact with. You can decide to change the default browser and choose your favorite browser. Follow the steps below to change the default browser on your Samsung Galaxy A14.
Watch: How To Split Screen On Samsung Galaxy A14
Change Default Browser On Samsung Galaxy A14
Firstly, you need to install your favorite browser on your Samsung Galaxy A14. On the home screen tap on Google Play Store, and search for your browser, be it Firefox, Phoenix Browser, or Opera Mini. Once you find your favorite one, tap on Install to download it.
Once installed, go to 'Settings' and tap on 'Apps'. At this point, you'll see all the applications installed on your Galaxy A14. On the top of the page, tap on 'Choose default apps', then select 'Browser app' from the menu that appears.
At this time, choose the browser you'd like to set as your default browser from the list of options available. Once selected, you can close that window and the changes will be saved on your device. Any link that will be sent to you, will automatically be opened with the default browser that you have selected.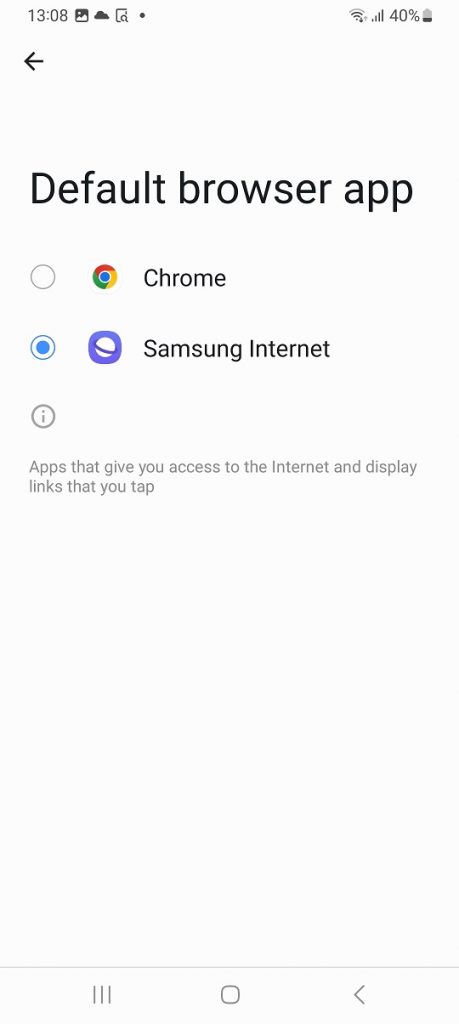 And that's how to go about it. Let us know in the comment section if you have any questions or suggestions. If you found the article helpful, consider sharing it with your friends.