There's a tad number of reasons to enable fast charging on your Samsung Galaxy A14. For one, when you turn on fast charging, then you'll get to charge your phone in shorter periods of time.
To ensure that this is efficient, use a good fast charger to get the most out of this deal. The Galaxy A14 does not come with a fast charging brick or any charging brick for that matter. You can use any of the ones from Anker, though to enable fast charging on Samsung Galaxy A14. Or enhance, rather.
Incase you were wondering, slow charging on the Galaxy A14 may be as a result of the option being disabled. The Galaxy A14 comes with fast charging disabled by default.
Read: How To Hide Apps On Samsung Galaxy A14
Ensure Your Galaxy A14 Charges Faster
Go to Settings on your Galaxy A14's app screen.
Scroll down to Battery and Device Care.
Tap on Battery and select More battery Settings.
Enable fast charging by toggling on the Fast Charging button. Your Samsung Galaxy A14 will now be capable of fast charging.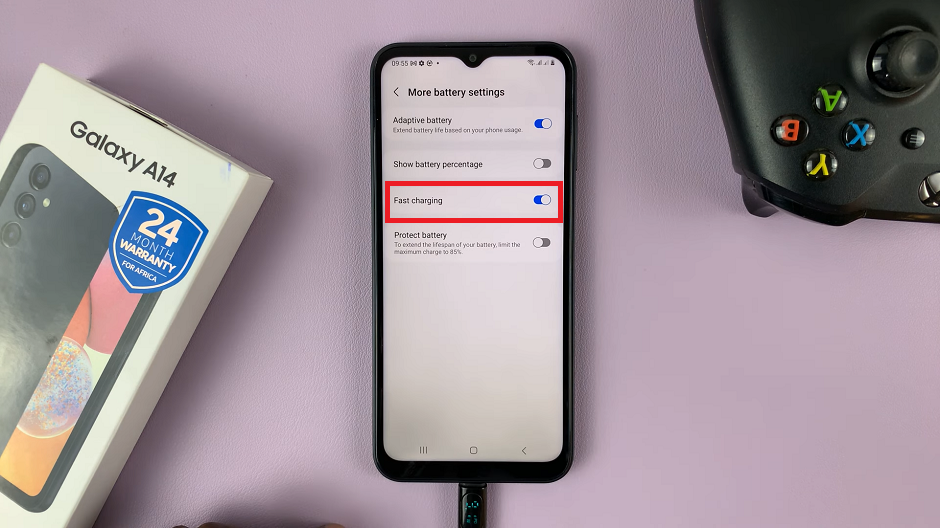 Wireless Charging On the Galaxy A14
Wireless charging by default is not available on the Galaxy A14. This is not to say though, that you can't use wireless charging on the phone.
Wireless charging can be added to your Samsung Galaxy A14 and this can be good to aid your cause of getting your phone to charge quickly. After all, wireless charging is the now and future, agreed?
The solution is to simply add a wireless charging adapter to your Galaxy A14. Such a one can be gotten from Olixar and to know how to install and use it, the video below will be of grand help.