Chess.com is an online platform that offers a wide range of features and tools for chess enthusiasts. One of the key elements of the chess experience on Chess.com is the ability to choose different board styles and themes.
Changing the board not only adds a visual appeal to the game but also allows players to customize their playing environment.
In this article, we guide you through the process on how to change the board on Chess.com, enabling you to personalize your chess experience.
Also Read: How Yo Change Flag On Chess.com
How To Change Board In Chess.com
First, log on to the Chess.com website. Then locate the navigation menu at the top of the screen. From the options available panel on the left side of the screen, tap on "Settings".
In the Settings section, you'll find various customization options. Look for the "Board & Pieces". Clicking on it will take you to a new page where you can modify the board's appearance.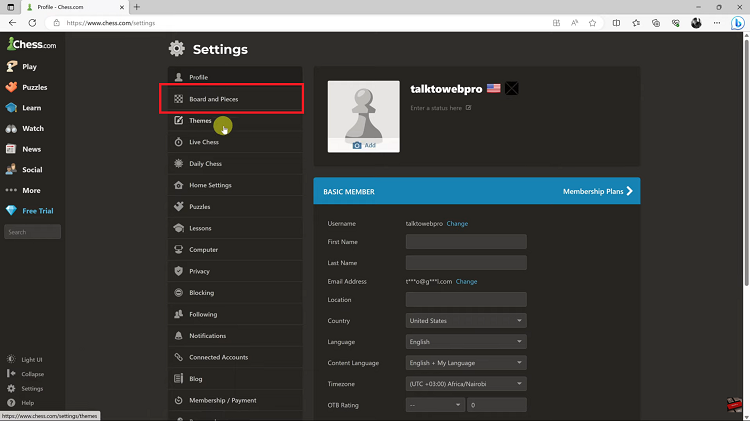 On the Board Settings page, you will find a selection of board styles and themes to choose from. Scroll through the available styles until you find one that appeals to you. Chess.com will provide a preview of the selected board style.
After you've selected your desired board style, locate the "Save" on the Board Settings page. Click on it to save your changes and update your Chess.com account with the new board style.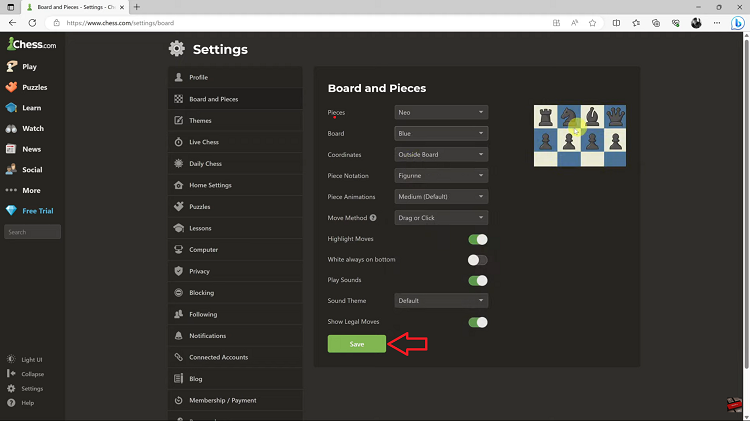 Changing the board on Chess.com is a simple process that allows you to personalize your chess-playing experience. Remember, the option to change the board is available in your account settings, providing you with the freedom to create a visually appealing and personalized chess environment.