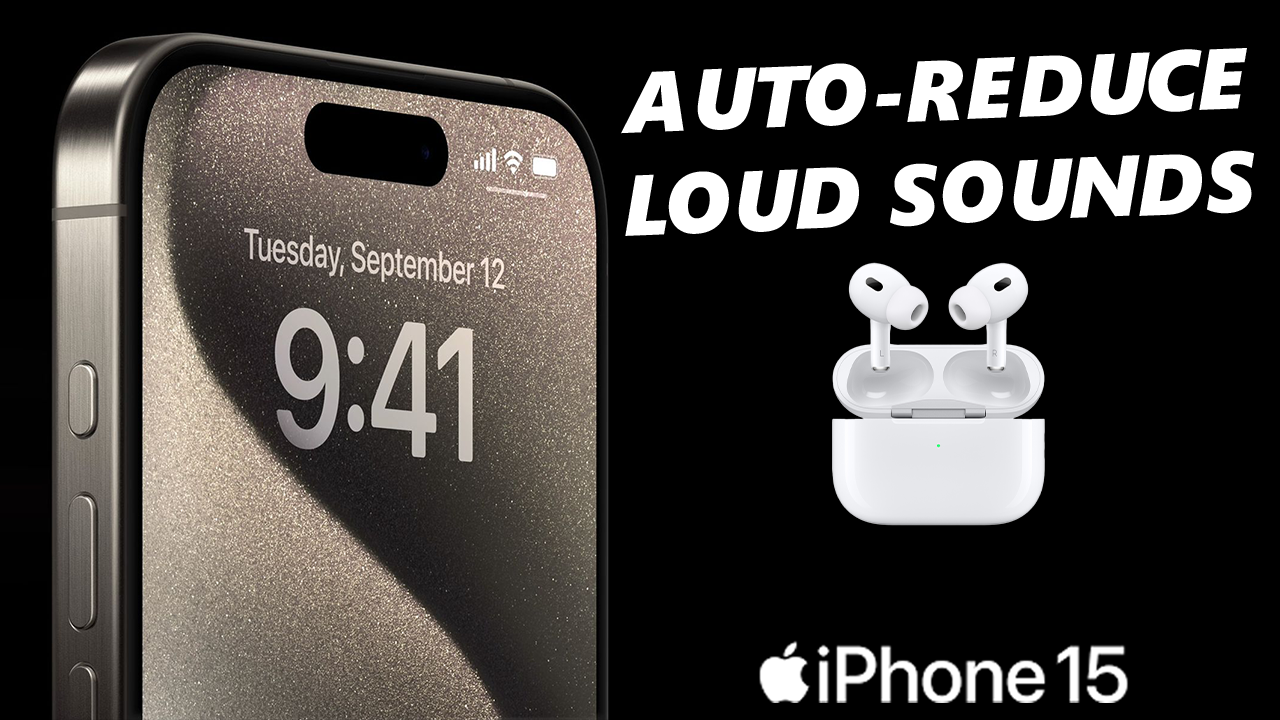 In this article, we'll guide you through the process used to automatically reduce loud sounds on headphones in your iPhone 15 & iPhone 15 Pro. This will apply for the iPhone 15 Pro Max as well.
All the iPhone 15 models come with a plethora of impressive features, and one of the less-discussed but highly valuable additions is the ability to automatically reduce loud sounds on headphones. This feature is not only convenient but also a crucial step in preserving your hearing health and ensuring a comfortable audio experience.
Listening to loud music or audio through headphones can lead to hearing damage over time. The World Health Organization has identified hearing loss as a significant public health concern. Therefore, it's essential to take steps to protect your hearing while still enjoying your favorite tunes or videos.
Read: How To Use Home Screen Widgets On iPhone 15 & iPhone 15 Pro
Automatically Reduce Loud Sounds On Headphones In iPhone 15 & iPhone 15 Pro
Here's how you can enable and customize the automatic loud sound reduction feature on your iPhone 15 and iPhone 15 Pro:
Open the Settings app on your iPhone 15 or iPhone 15 Pro. Scroll down and tap on Sounds & Haptics.
Locate the Headphone Audio section, where you'll find the Headphone Safety option. Tap on Headphone Safety.
You'll see the Reduce Loud Sounds option, with a toggle switch next to it. Tap on the toggle switch if it's off, to enable this feature.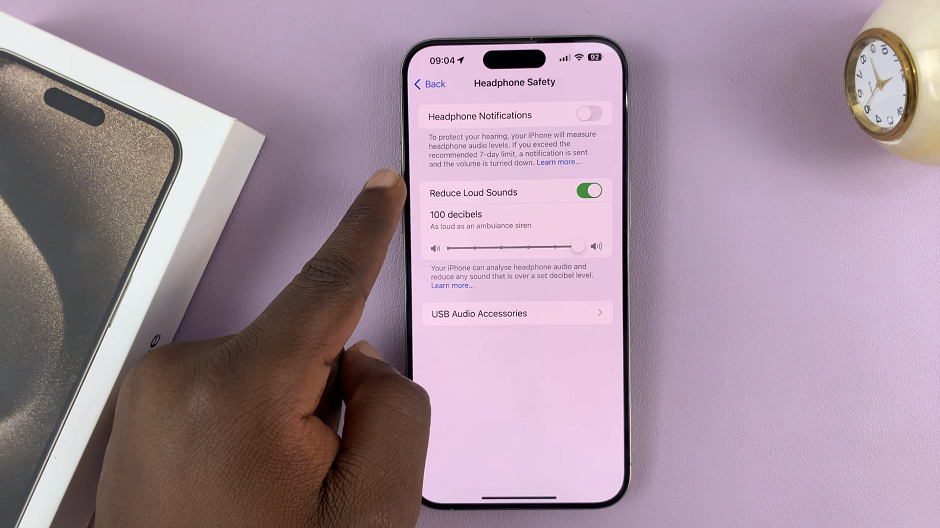 With the Reduce Loud Sounds feature turned on, you can now adjust the settings to suit your preferences. This allows you to choose how aggressively your device reduces loud sounds.
You'll find a slider just below the Reduce Loud Sounds option. Move the slider to the right to reduce loud sounds more aggressively or to the left for a milder reduction.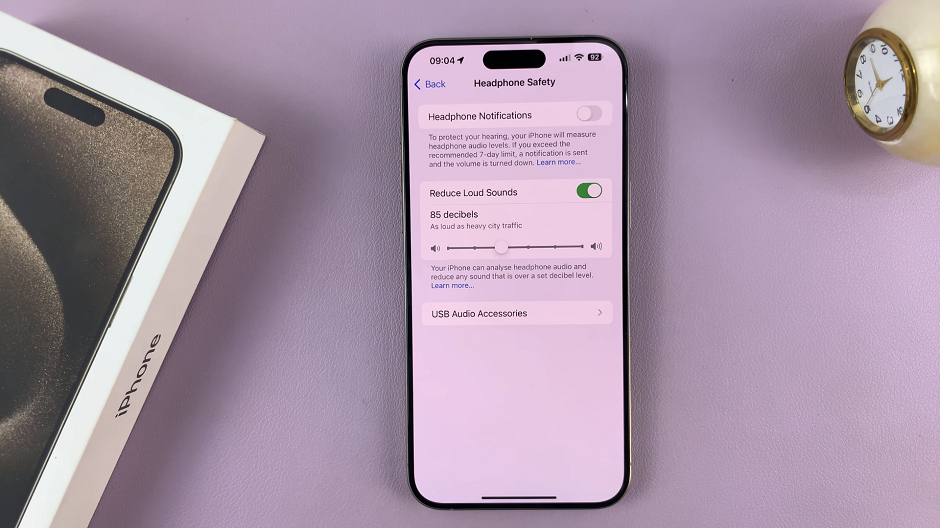 The slider ranges from 75 decibels all the way to 100 decibels, for different ambiences.
100 dB (As loud as ambulance siren), 95 (As loud as car horn), 85 (As loud as heavy city traffic) and 75 (As loud as vacuum cleaner).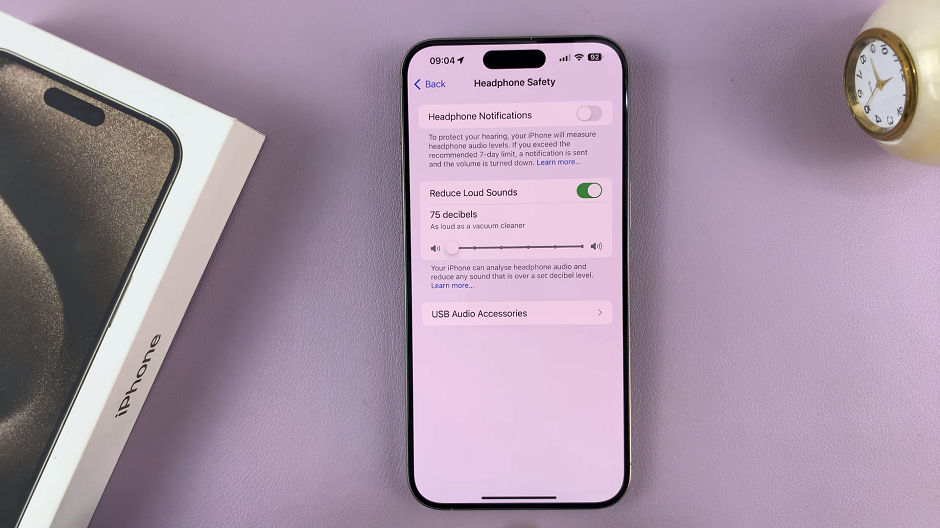 Once you've made your adjustments, exit the settings, and your iPhone will automatically reduce loud sounds when you use headphones.
Final Tips for Optimal Experience
It's important to strike a balance between comfortable listening and hearing protection. Experiment with the loud sound reduction settings to find what works best for you.
Regularly check and adjust your settings, especially if you switch between different headphones or listening environments.
Remember that hearing protection is crucial, but it's also essential to maintain sound quality. Be mindful not to over-reduce the sound if it impacts your overall listening experience.
Make use of built-in features like the Loud Sound Reduction in combination with listening at moderate volumes to safeguard your hearing effectively.
Preserving your hearing should be a top priority, and the iPhone 15 and iPhone 15 Pro make it easier with the automatic loud sound reduction feature. By following the steps outlined in this article, you can take control of your audio experience, ensuring that you enjoy your content without risking your long-term hearing health. So, enable this feature and listen to your favorite music and videos with peace of mind on your iPhone 15 or iPhone 15 Pro. Your ears will thank you.