iPad Pro is available in either 11 inches or 12.9 inches. iPad Air come with a 10.5 inches screen. They are two great Apple tablet models that come packed with fantastic features.
Today I will elaborate on the differences and similarities in our feud iPad Air vs iPad Pro; then try and decide on which is superior.
iPad Air vs iPad Pro: Design
The latest iPad Pros come with a stunning redesign of the iPad template. The home button and Touch ID were left out in favor of the slimline, a minimal bezel approach and also the Face ID login. Although iPad Air was not a bad-looking tablet, iPad Pro have the benefit of looking more modern.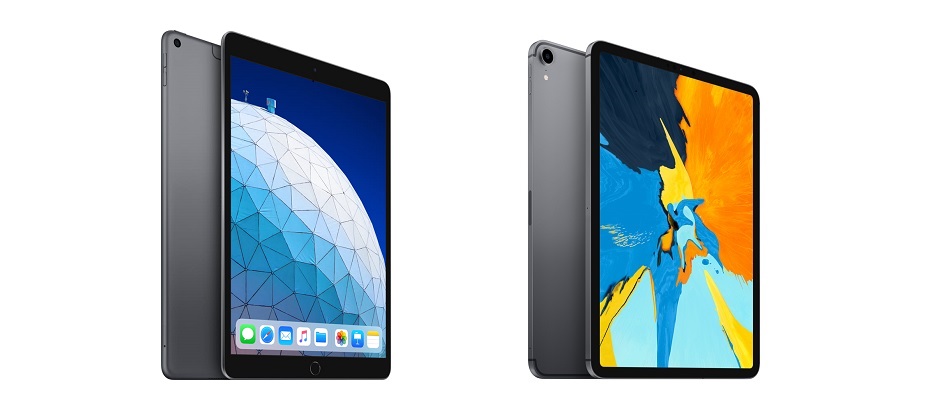 When we consider more screen-to-body space aspect, iPad Pro has a slim advantage since it comes with screens of either 11 inches or 12.9 inches. iPad Air comes with screens of only 10.5 inches. However, when it comes to weight, the iPad Air is lighter with only 456 grams.
If you consider colors, all the iPad models are available in Silver and Grey, but it is only the iPad Air that comes with a Rose-Gold finish.
Overall, the minimal design approach of the iPad Pros is more appealing.
iPad Pro Vs iPad Air: Specifications
When considering raw power, these iPad models tend to be similar. However the A12X Bionic chip in the Pro tablets is slightly faster, than the  A12 Bionic chips in the iPad Air.
When we consider storage, iPad Pro offers more in terms of storage. However a variety of configuration options are available. The choices available for iPad Pro are 64GigaBytes, 256GigaBytes, 512GigaBytes or 1TeraBytes. iPad Air are  64GigaBytes or 256GigaBytes. Although Apple does not officially state RAM specifications, iPad Pro is believed to have 4 GigaBytes or 6 GigaBytes depending on your configuration. iPad Air have 3 GigaBytes of RAM (Random Access Memory).
In cameras, iPad Pro is superior once again. It has a 12 Megapixels rear camera and a 7 Megapixels front camera. iPad Air has a 8 Megapixels rear camera and a 7 Megapixels front camera. In conclusion, iPad Pro is better.
iPad Pro Vs iPad Air: Features
Both tablet models come with a cellular connectivity. You can choose between Wi-Fi only and Wi-Fi+ cellular models easily while considering your budget.
In terms of display besides the size aspect, iPad Pros come with ProMotion ( a variable refresh rate which is up to 120 HZ). It is common in applications and games that require extra responsiveness.
iPad Air comes with a lightning connector port and a 3.5mm headphone jack. iPad Pro only has a USB-C port. The iPad Pro do support the second generation Apple pencil. iPad Air uses the first generation model of Apple's stylus.
The only area without a difference is the software since both run the latest iOS 12 software. They also share Screen Time and Animoji and many more. Once iOS 12 updates to iOS 13, it will be available for both tablet models.
Final Verdict
We can easily conclude considering the iPad Air vs iPad Pro contest, that iPad Pro is the superior tablet model. They are better designed, better specifications and also supports the latest Apple's Stylus pen. However is it worth your money? In today's market, iPad Pro is around 29,000 Kenya Shillings more expensive than the iPad Air.
If you consider the operating system in the iPad Air vs iPad Pro contest, the result is a draw since both run on iOS 12. They also share set of features. I personally think it's a lot of money to let it go. However there are good news since Apple now gives us choices.
You save your money on the less expensive iPad Air since it's older styling and also slightly slower processor, or spend more money on the modern looking super-fast iPad Pros. Whichever you choose from the iPad Air vs iPad Pro contest, ensure you do not disappoint yourself.
Also read: iPadOS! Everything You Need To Know!