The Galaxy S7  is the best smartphone Samsung has produced so far.  In June 2016, Samsung released the tougher version of the Galaxy S7 phones and called it 'Active'.
The main features returning to the Galaxy S7 phones are the memory expansion slot and the finger print sensor.  The S7 Active is no exception.  Here is a review of the main features added to the Galaxy S7 Active that you might not find in the other Galaxy S7s.
Design:  
If you've seen the Galaxy S7 or the Galaxy S7 edge,  you might be disappointed in the appearance of the Galaxy S7 Active.  It has a more rugged exterior designed to absorb more shock and withstand drops more then its counterparts.
It has a rubber frame and back which makes the phone more durable even in harsh conditions.  The exterior makes it more resistant to water and dust.  Samsung are also claiming the display glass is shatter proof. It's still gorilla glass 4.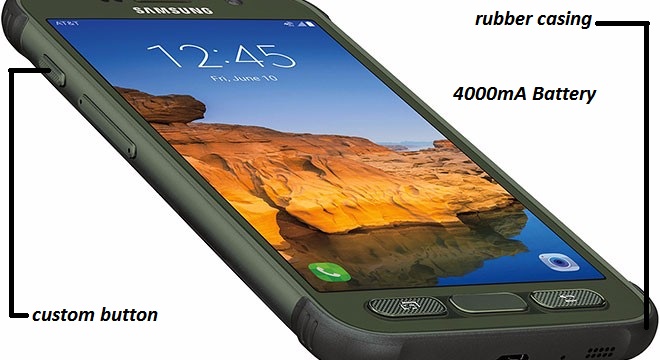 Custom Button:
The Samsung Galaxy S7 Active has a button on the left side that you can program from the settings.  You can assign up to three different actions on this button for single press,  double press and long press.  This means you can set the button to launch your favorite apps whenever you want to.
Battery:
When Samsung Galaxy S7 and S7 edge were launched,  the 3600mA battery was one of the main talking points.  The the S7 Active was released and Samsung gave it a 4000mA battery.  With this battery,  you will not need a power bank as soon as you leave your house or office. This battery should make even the most active phone user's life easy.  At least two days of battery life.
These and all the other awesome features in the Galaxy S7,  you have a Samsung Galxy S7 Active.  The only disappointment is that Samsung made it an AT&T exclusive.  It can only be used in the U.S by one carrier.  Why???  So many people will never know how awesome this phone is unless you can unlock it.
WATCH:  Samsung Galaxy J7 Pro Review.