Amazon, which has come a long way from being only a platform for selling books to being among, the biggest competitors to Netflix, thanks to Amazon Prime service  But it's their Kindle fire tablets we want to focus on today.
Despite their many shortcomings compared to Android and Apple tablets, one good solid thing about Amazon Kindle Fire tablets is that they support other, video streaming services like Netflix.
That means you're not restricted to Amazon prime video streaming service; which is great too in it's own right! It has great content; just saying.
Setting Up Netflix On Kindle Fire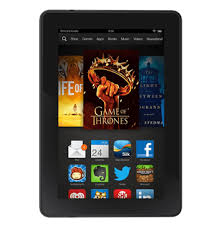 Amazon Kindle Fire has its own video streaming application but you can easily install Netflix to expand your choice of movies and television shows to watch. Once you install and sign in with your Netflix credentials, you can easily watch Netflix movies just like on any other device.
Watch Netflix On Kindle Fire With No Wi-Fi
I already discussed about Watching Netflix offline. In my previous article,  i explained how to do it on Android, iOS and Windows 10 devices.
Just like in those other devices,  you can download Netflix shows on your Amazon Kindle Fire tablet and watch later with limited or no Wifi. Just start playing the movie or title you want to watch offline, then tap on the 'Menu' icon. If a title is available for download, it will let you know and you can download.
Netflix allows you, to choose the quality of the videos, that you downloaded. If your tablet is low on storage space, choose Standard Quality. If space is plenty, Choose High Quality. It comes with the best offline video quality. To check the quality, and the size of every video, go to My Downloads.
Note: Even without Wifi you might still need a little data for Netflix to confirm your's signed in to the account and that your subscription is valid. Then it can play your title without Wifi.
Also read: How To Read Google Books On Kindle