Videos come in different file formats depending on where they are coming from. The video formats are used differently and some playback software won't play certain file formats.  That's why there exists a plethora of video converters on the internet.
But VLC Media player, being the most popular video playback software, is probably already installed on your computer. You can use one of it's jukebox tricks to convert video without the need to install additional software just for conversion.
How To Convert:
Launch VLC on your PC. Click on the Media button and select Convert/Save.  Or you can simply press CTRL + R  shortcut on your keyboard.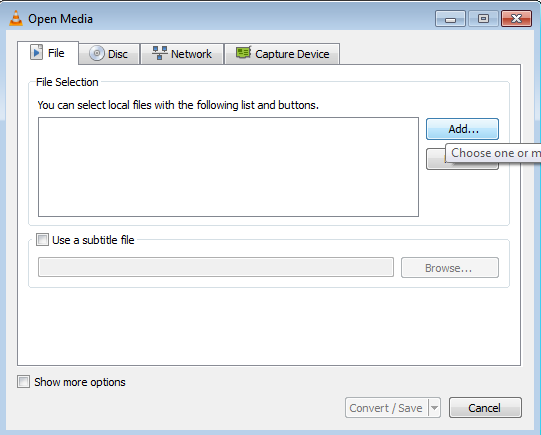 From the Open Media dialogue box,  click on 'Add' to load the video you want to convert. This video should be saved somewhere on your computer. When the video is loaded, click 'Convert/Save'.
Then select the format you want to covert the video to in the 'Profile' section.  There are pre-configured profiles that you can select from. If you want,  you can customize the video output format by tweaking the sound, aspect ratio, video codec, audio codec e.t.c.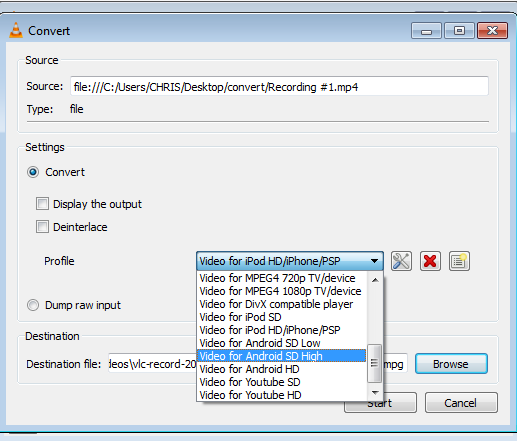 There's a lot of video formats you can choose from in the drop down list. You really don't need to edit the pre-configured formats unless you know what you're doing.
Select where you want the converted video to be saved in the 'Destination file' option.  Click Browse to do this.
Also Read:  How To Trim Videos Using VLC
If you want the original video deleted after the conversion,  select the 'Dump raw input' option. I personally don't think this is necessary.  If the conversion is interrupted or the output is not what you wanted, you'll have lost the original video. If you have to delete it, deleted it manually after a successful conversion.
When you're ready, click on 'Start'.  The process should begin immediately. The speed of the conversion depends on your computer's power and efficiency as well as the video formats you're dealing with.