By default, computers,  smartphones and tablets produce light with blue spectrum. These blue spectrum are also contained in natural light produced by the sun which keeps us awake.
When our eyes are exposed to this light from our screens for long hours at night, it leads to poor sleep patterns and eye strain. Poor sleep patterns are unhealthy. The bright light from our screens are contributing a lot to sleepless nights and stain on the eyes.
I will however, no tell you to stop using your smartphone at night just before bed. Chances are, you won't stop. I haven't stopped either. Most computers and smartphones allow you to reduce screen brightness. This helps but the dim light still contains blue spectrum which is affecting you.
How To Warm Your Screens:
To reduce eye strain significantly, you need to change the kind of light coming from your screens at night. In night mode it needs to be warm light. Warm light contains less or none of the blue spectrum that confuses the brain into thinking it's daylight.
Computer Screen:
To warm up your computer screen, use an app called f.lux  It's available for Windows,  Linux and Mac. Download it from the Official website.
The beauty of f.lux is that it's a cross platform app. It will allow your computer screen to produce the normal light and get warmer as the evening approaches. By night fall, your screen will produce reddish light. It might take some time to get used to.
If you have hue lights in your house, they can be controlled by f.lux via bluetooth.
In some instances,  you might need to turn off the warm light temporarily. The app allows you to turn off the warm light for some time. e.g. when you're using an app like Photoshop.
Smartphone/Tablet Screens:
There's a f.lux app for Androd and iOS but it requires rooted devices. If your device is rooted,  the app works perfectly. You however don't need to root your device to get warm light from your device screen.
iOS devices have a feature called Night Shift. This feature block the white-blue spectrum light and introduces a warm, red light on your screen. This feature is only available in devices running iOS9.3 on-wards.
Some devices running iOS 9.3 with unsupported hardware don't have the feature.  These include: iPad 2, iPad 3rd/4th Gen, as well as the iPad Mini, iPhone 4s, 5, and 5c, iPod Touch 5G.
All other iOS9.3 devices and later devices will have the Night shift feature. To activate it, swipe upwards from the bottom of your screen and tap on the 'Night Shift' icon.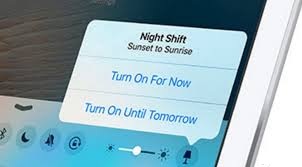 You can adjust the 'warmth' of the screen as you wish. You can also jump into settings and adjust a few preferences.
Android doesn't come with a built in night shift feature to control the light temperature emitted from the screens. The play store is loaded with apps to solve this problem. I will highlight a few of the best. Like f.lux, CF Lumen is another useful app that requires a rooted Android device.
Twilight will work on your device without rooting. Definitely with more features, you can control brightness, intensity and temperature of the light coming from your Android device screen.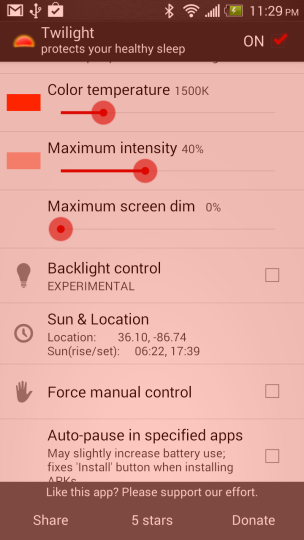 Twilight is free for Download from the Google Play Store.