If you're intending to go to a place without internet connection or if you're anticipating an internet blackout and still want to use your google documents, well worry no more, because this article will show you how to maneuver around and you will be able to use your google docs even while you are offline.
How To Use Google Docs Offline On Desktop
In case you do not have Google Chrome in your PC or Mac, then you will have to install it since this workaround is only applicable on Google Chrome. Google chrome is easily available on the internet.
Once installed, open it and sign in with your Google account. For this feature to work, you require a Google docs extension called Google Docs Offline. So you have to download and install it.
Once you install it, open it and click on the hamburger icon which is represented by the icon three vertical line arranged on top of each other. Once it opens, select the settings option and enable the offline toggle feature. This offline toggle feature will help you in editing and saving your documents while you are offline.
After installing the extension, make sure to go to the Google documents you wish to use offline and make them available offline. You can either right click on the document and make available offline or do it from the File menu when you open the Google doc.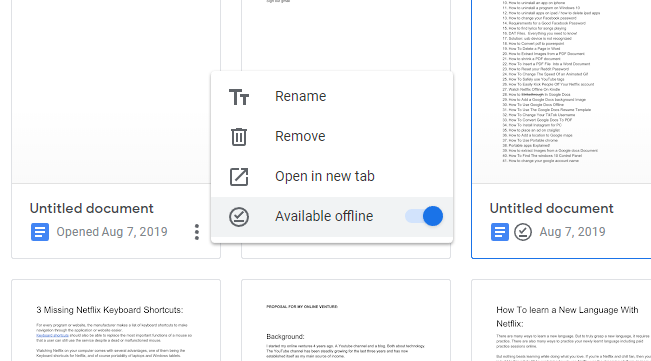 How To Use Google Docs Offline On Your Smartphone
The Google docs application on your iOS or Android device also let's you make Google docs available offline. This also works for the Google sheets and Google slides applications.  Simply open the file you want to access offline later, tap on the menu and make available offline.
You could also use Google Dive for this. On your phone, open your Google Drive app. Next to the file you want to access while you are offline, tap on the three vertical dots that are next to its name. On the new menu, tap on Available Offline to enable editing while you are offline. 
To have a view of your offline files, on the top-left corner, tap on the hamburger icon followed by Offline option. This will help in storing your files in a cache locally. 
To have recent files available in offline mode in either Google Docs, Slides, Sheets, tap on the hamburger icon. On the top-left corner of  your new window, tap on settings. Tap "Make recent files available offline.
Watch: Google Docs Offline