With newer Android smartphones, one can switch between gestures or navigation buttons on the device. Normally, when you set up the phone, you'll find out that the navigation buttons are enabled by default. If you're used to gestures, or you'd prefer gestures on your device, you can simply enable them on your phone.
If you're new to this, worry not because there's a short navigation gestures tutorial that will show you how to navigate around your phone. The virtual buttons can also be re-arranged according to one's liking. The guide below will show you steps on how to use gestures on Samsung Galaxy A14.
Watch: How To Enable / Disable Charging Sound On Samsung Galaxy S23s
Use Gestures On Samsung Galaxy A14
For someone to use gestures, you need to enable them on your device.
Firstly, head to 'Settings' on your Samsung Galaxy A14. Next, scroll down and tap on 'Display' on the settings page. On this page, scroll down and select 'Navigation bar'. At this point, you'll be able to see the buttons and gestures menu from this point.
At this point, tap on 'Swipe gestures' to enable the gestures on your Samsung Galaxy A14. If you do not know how to use the gestures, tap on 'More options' and there will be a tutorial video that will guide you on what gestures to use on your device.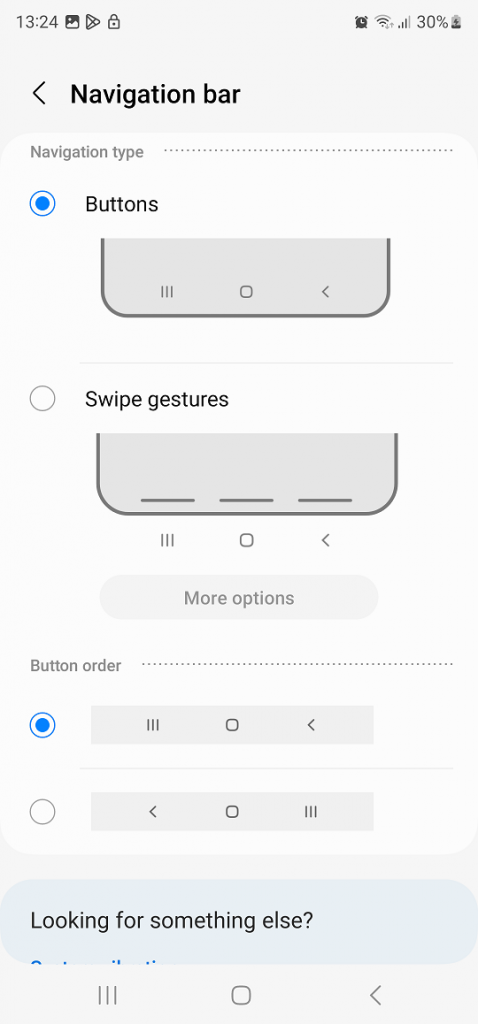 In addition, if you find the gestures are not suitable for you, follow the steps above to revert them back to the navigation buttons. And that's how to go about it. Let us know in the comment section if you have any questions or suggestions. If you found the article helpful, consider sharing it with your friends.