In this article, we'll take you through the simple steps to turn Now Playing on/off on your Google Pixel 8 & Pixel 8 Pro.
The Google Pixel 8 and Pixel 8 Pro come packed with a plethora of innovative features, and one of the standout functionalities is the Now Playing feature. This cutting-edge technology allows your device to automatically recognize songs playing in your surroundings without the need for an internet connection.
Whether you're curious about the latest chart-topper or seeking to save battery life, learning how to toggle Now Playing on and off is a valuable skill.
Read: How To Set Up Face Unlock On Google Pixel 8 & Pixel 8 Pro
Turn 'Now Playing' ON
Unlock your Pixel 8 or Pixel 8 Pro and navigate to the home screen. Swipe down from the top of the screen to open the notification shade. Tap on the gear icon in the top right corner to access the Settings menu. You can also access the Settings app via the app drawer.
Scroll down and select Display from the list of options. In the Display settings, locate the Lock Display section and tap on Lock Screen.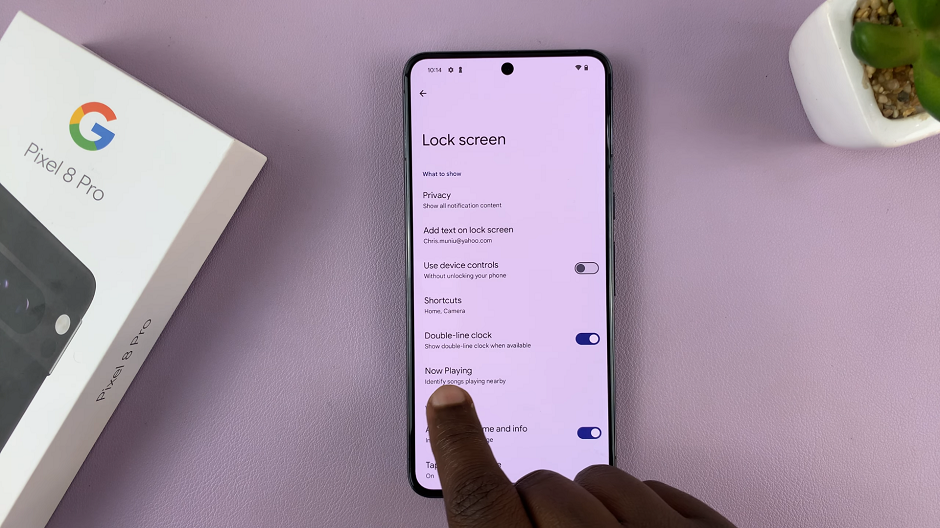 Locate and tap on Now Playing.
Under Now Playing, toggle the Identify Songs Playing Nearby switch to the right to enable the Now Playing feature. Once you enable this option, the database download will begin.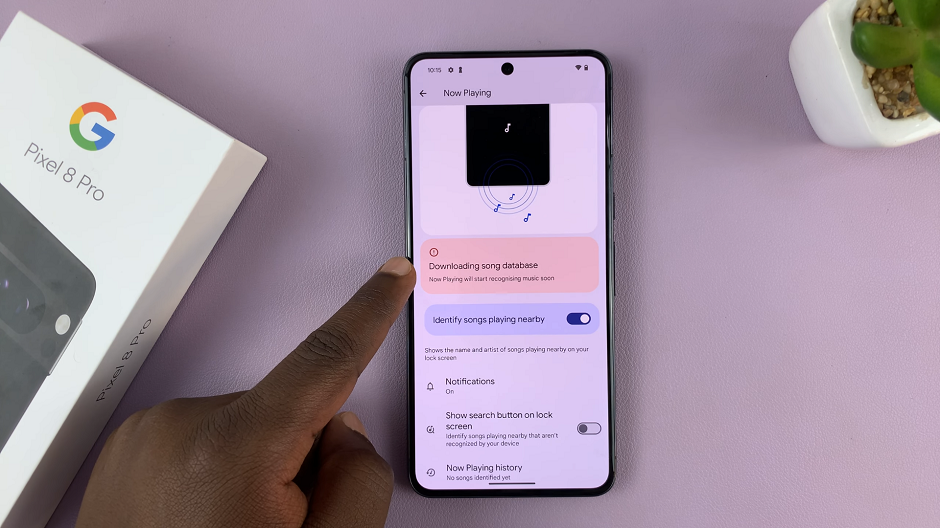 You can also choose to enable or disable the Notifications or Show search button on lock screen options.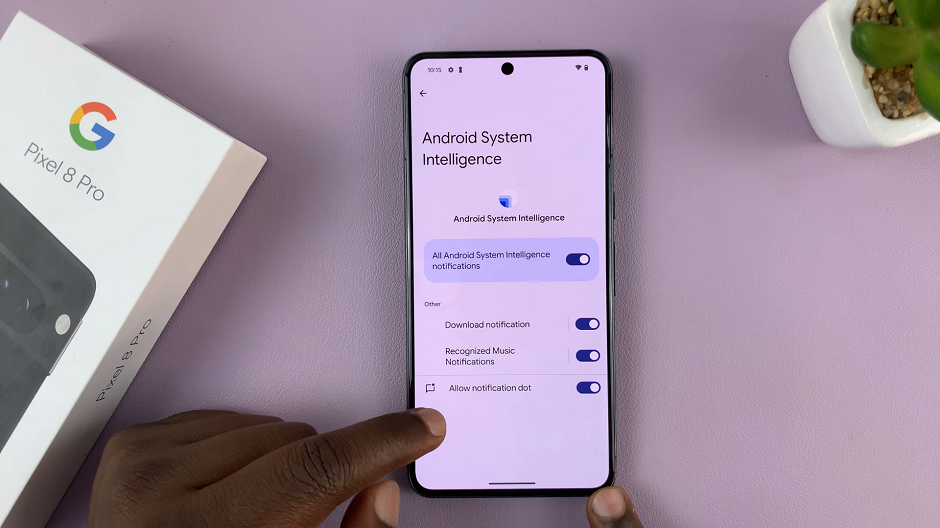 You'll now be able to enjoy automatic song recognition wherever you go, on the lock screen and Always On Display.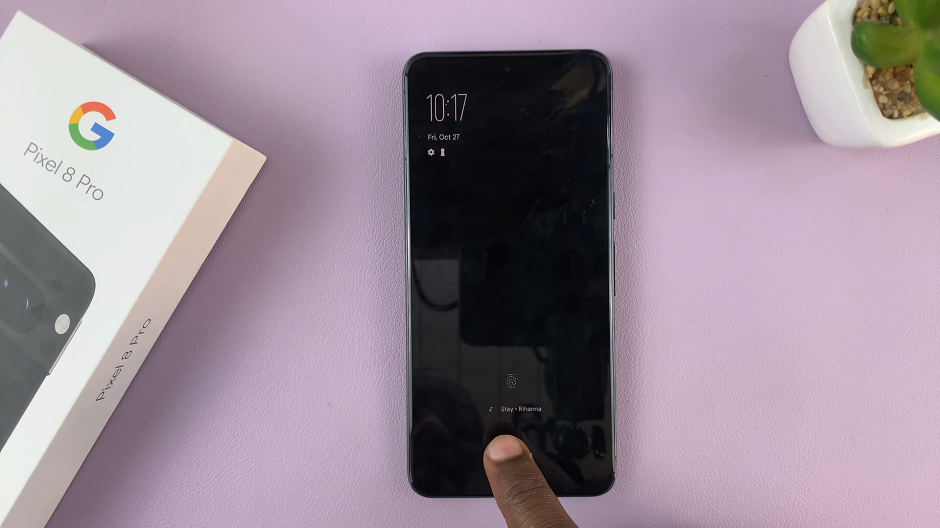 Turn 'Now Playing' OFF On Google Pixel 8 & Pixel 8 Pro
To disable Now Playing, follow steps from the previous section to access the Now Playing settings.
Toggle the switch to the left to turn off the Now Playing feature. This will disable the automatic song recognition.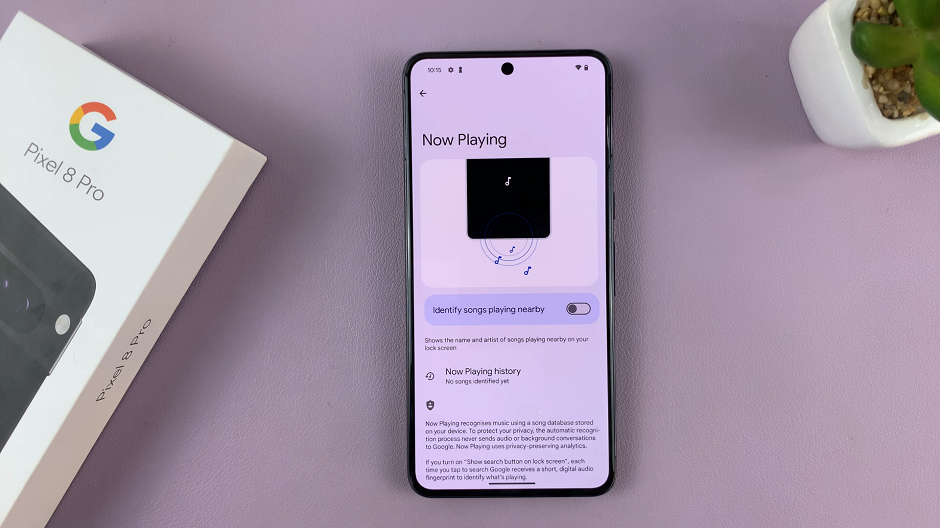 Troubleshooting Tips
If you're experiencing issues with Now Playing not recognizing songs correctly, ensure that the feature is enabled in the settings.
Make sure your device's microphone is clean and free from any obstructions that may hinder audio detection.
Ensure that your device has the latest software updates installed. These updates often include improvements to the Now Playing feature.
The Now Playing feature on the Google Pixel 8 and Pixel 8 Pro is a powerful tool that adds a new dimension to your smartphone experience. Whether you're a music enthusiast or simply looking to conserve battery life, knowing how to toggle this feature on and off is essential. By following the steps outlined in this guide, you'll be able to effortlessly enable or disable 'Now Playing' according to your preferences.
Watch this: How To Add Contact Photo On Samsung Galaxy A24