In this comprehensive guide, we'll walk you through the simple steps to set up Face Unlock on your Google Pixel 8 & 8 Pro.
In an era where security and convenience go hand in hand, Google's Pixel 8 and 8 Pro offer a seamless Face Unlock feature that allows you to access your device effortlessly.
This biometric authentication method ensures that only you can unlock your phone, adding an extra layer of security to your digital life.
Read: How To Enable/Disable Floating Keyboard On Google Pixel 8 & Pixel 8 Pro
Set Up Face Unlock On Google Pixel 8 & 8 Pro:
To begin, navigate to your device's settings. You can do this by swiping down from the top of your screen and tapping the gear icon, or by finding the Settings app in your app drawer. Once in the settings menu, locate and select Security & Privacy.
Within the Security & Privacy menu, look for the Device Unlock option and tap on it.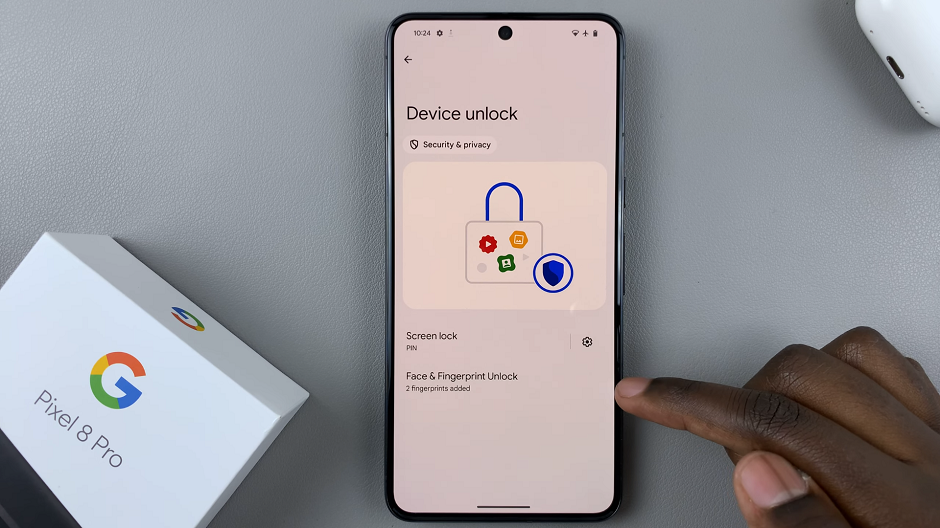 Under Device Unlock, tap on Face & Fingerprint Unlock. This is where you'll initiate the setup process. You will be prompted to enter your device's lock screen PIN, pattern, or password for verification.
If you don't have a way to verify, you'll be prompted to set up one.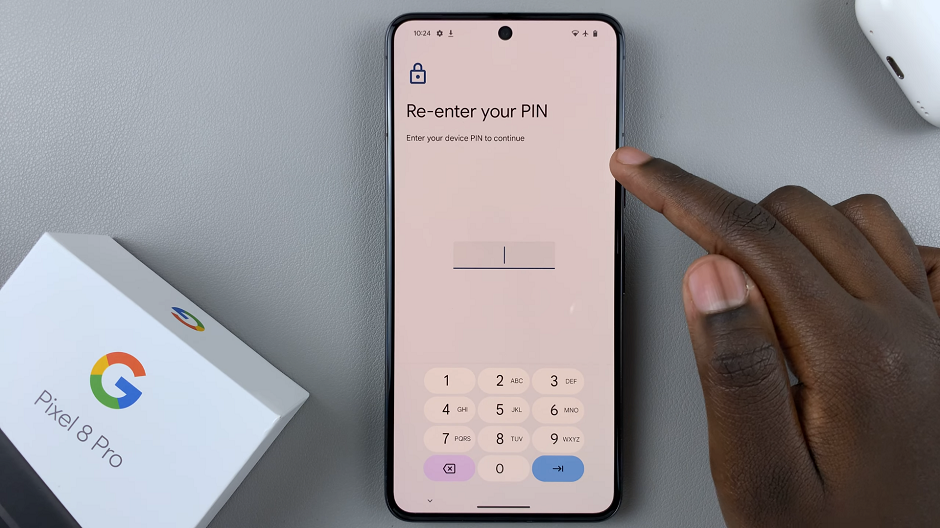 Once you enter your PIN, you'll be presented with the Face & Fingerprint Unlock menu. Tap on the Face Unlock option. Read through the notes and tap on I agree.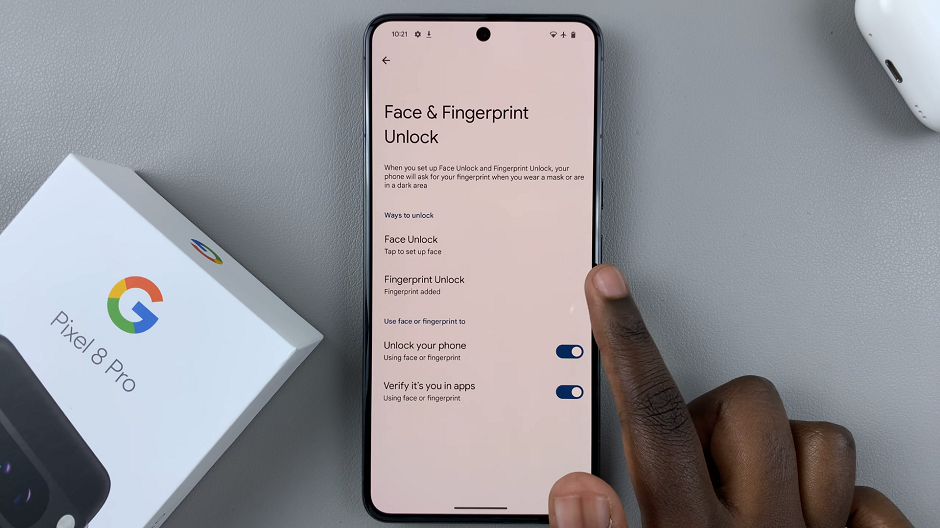 In the How to Set up face unlock page, tap on Start. Position your face within the circle on the screen and follow the on-screen prompts. Ensure you're in a well-lit environment for accurate recognition.
Tilt your head in different directions as instructed to capture your face from various angles.
Once the setup process is complete, you'll receive a confirmation message.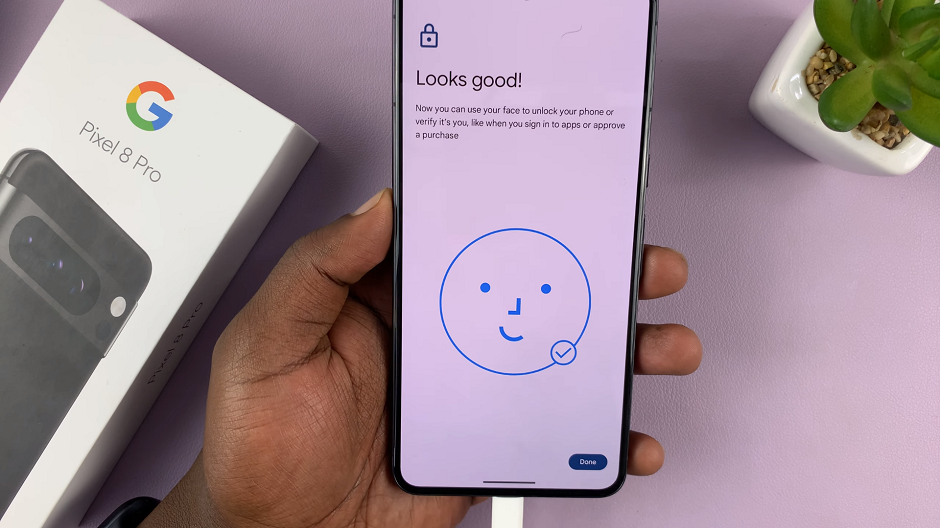 Lock your device by pressing the power button. Gently raise your phone towards your face. The front camera will scan your face and, if successful, the device will unlock.
From now on, you can effortlessly unlock your phone with just a glance.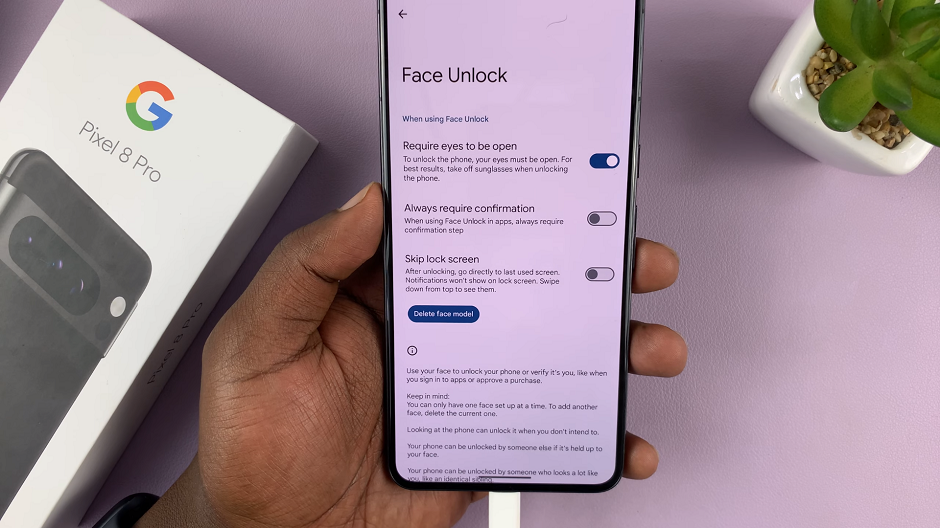 Additional Tips & Troubleshooting
Improving Recognition: For better recognition, ensure your face is well-lit and avoid excessive backlighting.
Wearing Accessories: Note that wearing glasses, hats, or other accessories may affect recognition. Consider registering your face with and without accessories for versatility.
Ensure your device is updated to the latest software version to access all the latest features. For added security, always have a backup PIN, pattern, or password in case Face Unlock is unavailable.
In conclusion, Google Pixel 8 and 8 Pro's Face Unlock feature provides a convenient and secure way to access your device. By following these simple steps, you can take full advantage of this advanced biometric authentication method.
Watch more: Google Pixel 8 / Pixel 8 Pro: How To Change Ringtone