As devices continue to evolve, manufacturers like Samsung prioritize user experience by offering a plethora of features that cater to various needs. One such feature is color correction, a tool designed to enhance visual accessibility and comfort for users.
Whether you're adjusting colors to accommodate specific visual requirements or simply seeking a fresh look, mastering the art of turning color correction on or off on your Samsung Galaxy device is a valuable skill.
In this article, we'll guide you through the process on how to turn color correction On and Off on your Samsung Galaxy S23.
Also Read: How To Turn Fingerprint On & Off On Samsung Galaxy
How To Turn Color Correction ON & OFF In Samsung Galaxy S23
To begin, open the "Settings" app found on your home screen. Scroll through the list of available options and select "Accessibility." Within the Accessibility settings, you'll find various categories. Look for "Visibility Enhancements" and tap on it to proceed.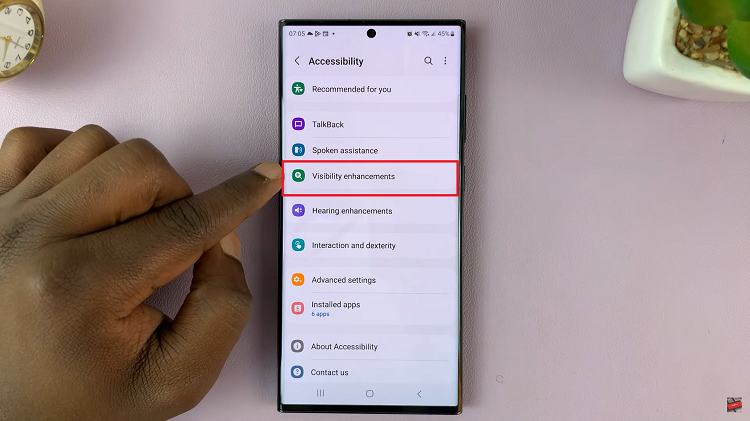 In the Visibility Enhancements section, you'll discover several options aimed at improving the visual experience. Locate and tap on "Color Correction." This is where you can customize the color settings to suit your preferences.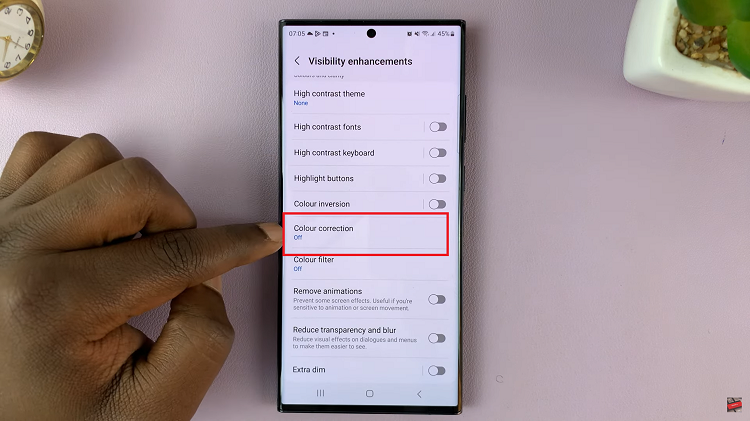 Once you're in the Color Correction menu, you'll notice a toggle switch at the top of the page. To turn color correction on, simply tap on the toggle switch. As you do this, a preview screen will appear, showing you how the colors will be adjusted based on the selected correction profile.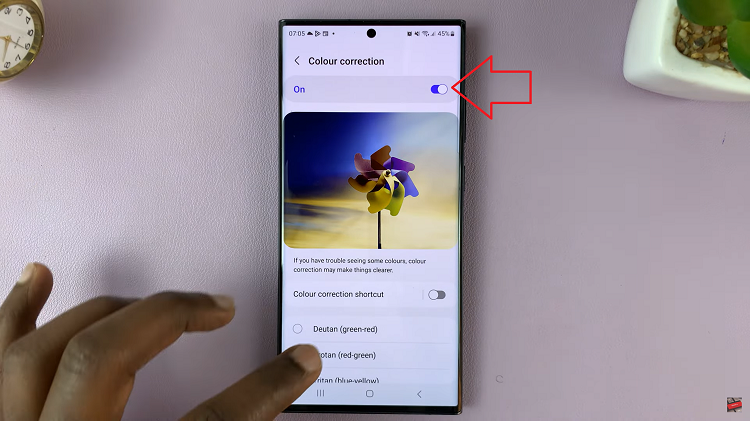 Take a moment to explore the preview screen and assess the changes made by the color correction feature. If you're satisfied with the adjustments, you've successfully enabled color correction. To disable color correction, tap on the toggle switch to turn it off. As before, a preview screen will show you how the colors will appear without the correction.
Watch: How To Enable 'Ask Every Time' When Casting To Pixel Tablet