The Samsung Galaxy S23 is renowned for its advanced features and customization options. One such feature that adds a touch of personalization to your device is the ability to enable and disable the Bitmoji and Mojitok feature on the Galaxy S23.
Bitmoji and Mojitok are fun and expressive tools that allow you to infuse your messages with creativity and emotions. Whether you're looking to enhance your messages with animated stickers or prefer a more traditional keyboard, we've got you covered.
In this article, we will guide you through the step-by-step process on how to turn Bitmoji or Mojitok on and off on your Samsung Galaxy S23 keyboard.
Also Read: How To View Physical Keyboard Shortcuts On Samsung Galaxy S23
How To Turn Bitmoji / Mojitok On & Off Samsung Galaxy S23 Keyboard
Begin by accessing your phone's settings by opening the "Settings" app. Within the Settings menu, locate and select "General Management." Inside the General Management section, scroll down and tap on "Samsung Keyboard Settings."
Scroll further down until you find the "Select third-Party Content To Use" option. This is where you can customize your keyboard with third-party content like Bitmoji and Mojitok.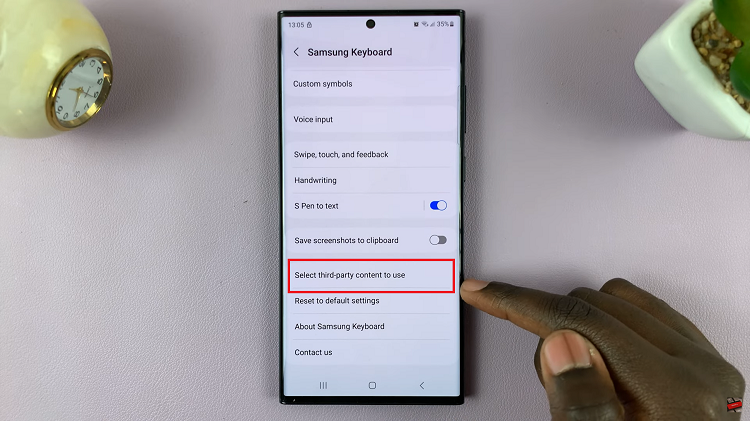 Under this section, you'll see the options for Bitmoji and Mojitok. Tap the toggles next to these options to enable them on your keyboard. Once you've toggled on Bitmoji and Mojitok, you can now use these fun and expressive features to enhance your messaging experience.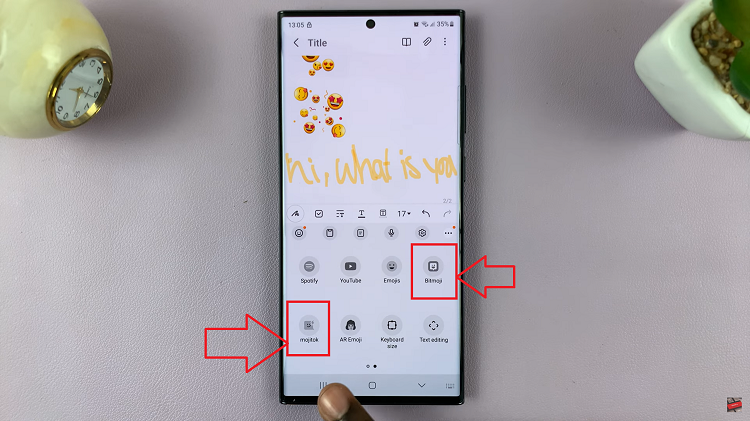 If you ever decide you want to turn them off, find the toggles for Bitmoji and Mojitok. Tap the toggles next to these options to turn them off. Once you've toggled off Bitmoji and Mojitok, they will no longer be available on your keyboard.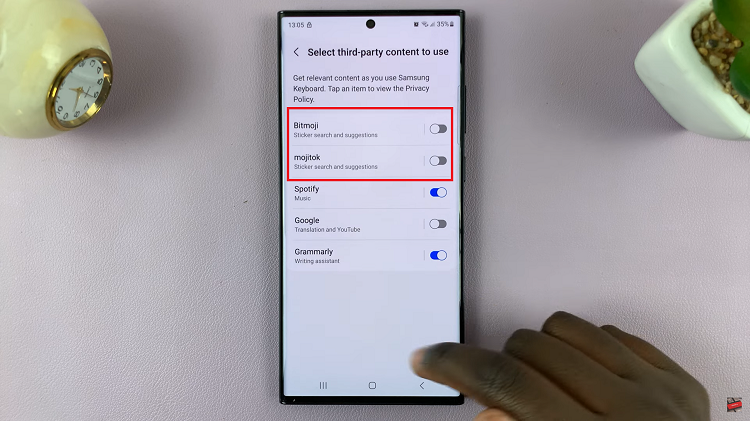 Personalizing your Samsung Galaxy S23 keyboard with Bitmoji and Mojitok adds a fun and unique element to your messaging experience. Whether you want to express your emotions with a Bitmoji or add some flair with Mojitok stickers, enabling and disabling these features is a straightforward process.
Watch: How To Enable / Disable Screen Off Memos On Samsung Galaxy S23 Ultra S Pen