Adobe acrobat is a great tool for working with PDF documents. But most of the advanced features are in the paid version of the software. $12.99 per month is not a fee everyone is willing to pay. Especially if you don't use the software often.
There are alternative ways to split PDF documents. These methods range from alternative free software already in our computers, third party applications and online tools.
Google Chrome:
Google Chrome, a popular modern browser that you have probably installed in your computer. Chrome has a built in pdf viewer which is capable of splitting a pdf document. This can be a universal desktop pdf splitter because Chrome can be installed on Windows, Linux and Mac. The best thing about it is,  it's free. You don't even need to be connected to the internet to do it.
Read: How To Split a PDF Document Using Google Chrome
Preview on Mac.
If you're on Mac, you know about the preview utility that comes with Mac OS. The Preview utility is used to preview files. It can also perform a few extra functions including splitting a PDF document. Read more.
Online Tool: (SplitPDF)
Online tools tend to be faster than any other method of splitting PDF documents. Because everything is done for you in the background.  All you have to do is provide the document, specify the pages you want split from the original PDF and wait a few seconds.
SplitPDF is the smoothest online PDF splitter in my opinion. Visit the page and provide the document. It has an easy-to-use web interface makes splitting a matter of seconds. This tool allows you to get the PDF document to be split from your computer, Google drive account or Dropbox account.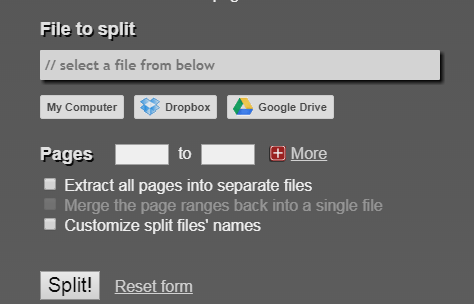 Specify the pages you want split by entering the page numbers in the 'From'  and 'To' text boxes. Then click on 'Split'. You can perform multiple splits at the same time with this tool.
The tool can also disintegrate all the pages of the PDF document into separate pdf files. The files are uploaded and downloaded through a secure encrypted connection which almost guarantees the safety of your PDF files. According to the website documentation, the processed files are deleted from the SplitPDF servers after one hour.
There are other online tools you can use to split a PDF document but SplitPDF takes the cake for me.
Third Party Application:
If you have to, you can install a third party application in your computer to split a pdf document. Any third party application would struggle to beat CutePDF in this category.
Go to this page and download both 'Free download'  and 'Free converter'. Install both programs into your computer. Cute PDF acts as a virtual printer when installed.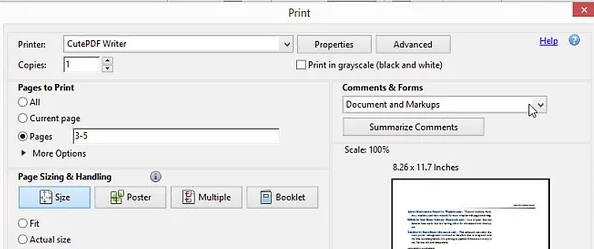 Open the PDF document using any pdf reader program.  Open the print menu and select CutePDF as the destination printer. Select the pages you want to split out and 'Print'. A new pdf document will be created containing the pages you selected.