Once you've installed the Google Assistant app, you then need to set up Google Assistant on your Samsung Galaxy Watch 6/6 Classic. In this video we'll show you how to do it step-by-step.
The Samsung Galaxy Watch 6 and 6 Classic are powerful smartwatches that offer a host of features to make your life more convenient and connected. One of the standout features is the integration of Google Assistant, allowing you to perform tasks, get answers, and control compatible smart devices using just your voice.
Before setting up Google Assistant, ensure that your watch is properly paired with your Android device. This ensures a seamless connection between your watch and phone, allowing for the smooth operation of Google Assistant.
Watch: How To Set Alarm On Samsung Galaxy Watch 6 / 6 Classic
Set Up Google Assistant On Samsung Galaxy Watch 6/6 Classic
To set up Google Assistant on your Samsung Galaxy Watch 6/6 Classic, you'll also need to download and install the Google Assistant app on your Galaxy Watch.
Next, open the Galaxy Store on your watch, search for Google Assistant, and select the official app from the search results. Then, click on Install and wait for the app to download and install.
Once the app is installed, find and open it on your watch. Once opened, tap on Get Started. This will prompt you to continue on your phone. So, get the phone that's paired to your watch, unlock it and follow the on-screen instructions.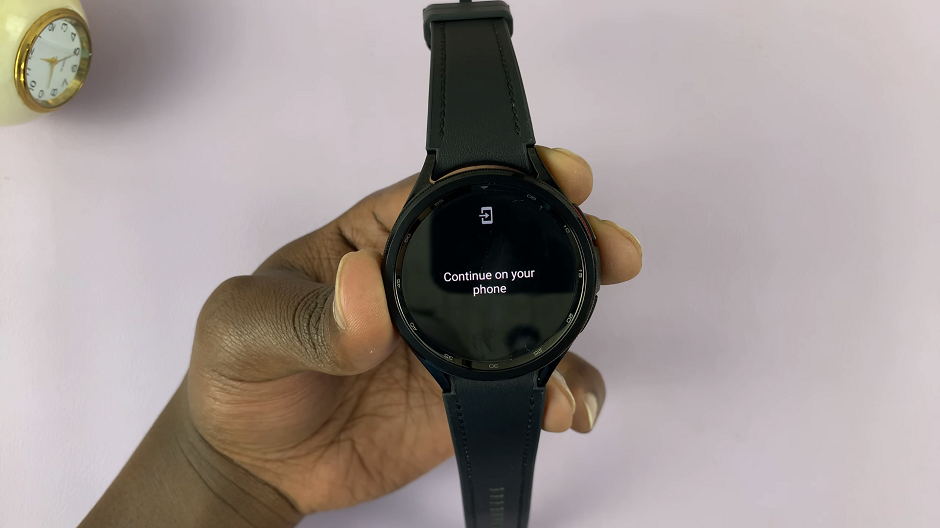 Your phone should pick up the set up process. Tap on Setup to continue. Google Assistant may require certain permissions to function optimally. These permissions may include access to your microphone, location, and other relevant settings. Grant the necessary permissions when prompted.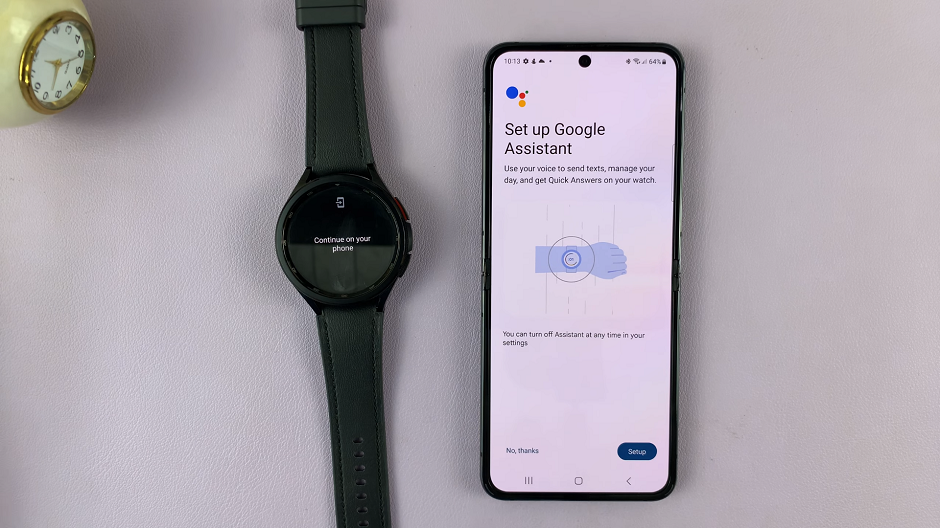 To make the most of Google Assistant, set up the voice activation feature. This allows you to activate Google Assistant by using a specific wake-up phrase (Hey Google), making it a truly hands-free experience.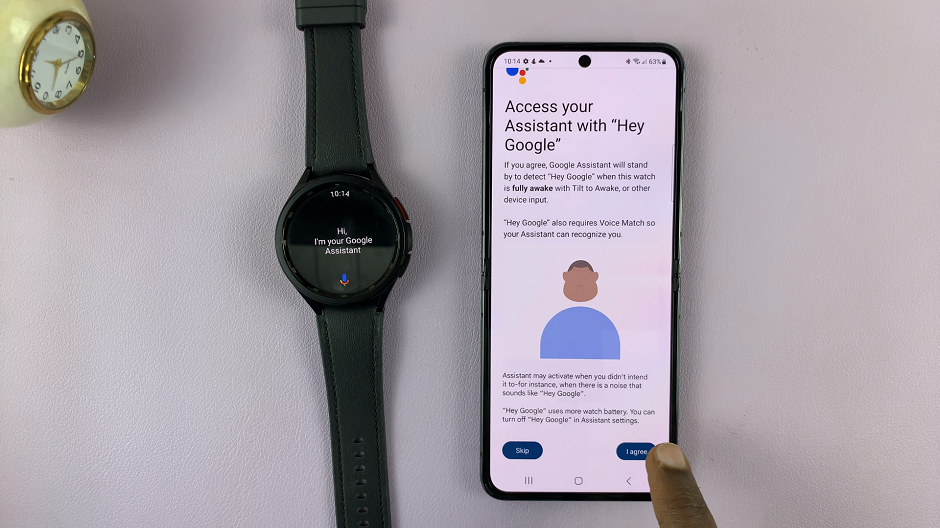 Additionally, explore the settings to customize your Home button to open Google Assistant, according to your preferences.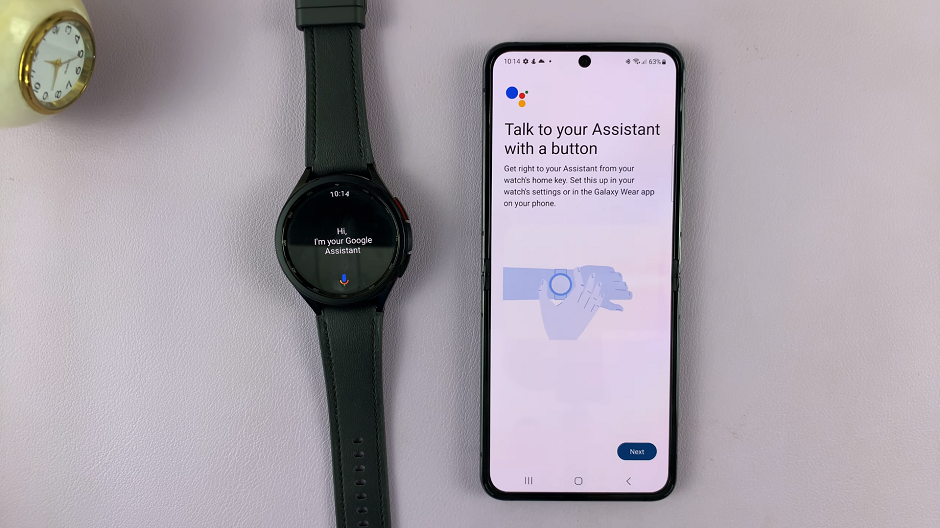 Use Google Assistant
Now that Google Assistant is set up on your Galaxy Watch, it's time to put it to the test. Try asking questions, sending messages, or controlling compatible smart devices to see how seamlessly it integrates with your watch.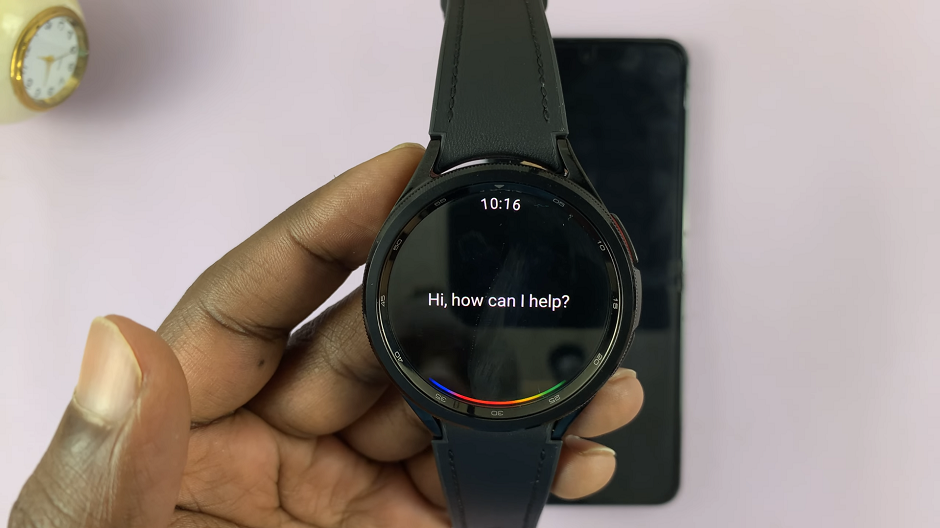 Congratulations! You've successfully set up Google Assistant on your Samsung Galaxy Watch 6 or 6 Classic. With this powerful voice-activated feature, you'll be able to navigate your smartwatch with ease and efficiency.
Integrating Google Assistant with your Samsung Galaxy Watch 6 or 6 Classic opens up a world of possibilities for convenient and efficient interactions. Whether you're looking to perform quick tasks or get instant answers, Google Assistant is there to assist you.
Read: How To Enable/Disable Ticking Sound On Samsung Galaxy Watch 6/6 Classic