Yes, you heard that right. It is possible to set up and use dual WhatsApp messenger on your Samsung Galaxy A14. You will be able to use two WhatsApp accounts concurrently as a consequence.
For this to work, you need to use two different phone numbers, and of course WhatsApp Messenger needs to be installed on your phone.
By default, you can only use one WhatsApp account on your Android phone, even if you have dual SIM cards on it. You have to set up dual Messenger for you can use two WhatsApp accounts on your phone.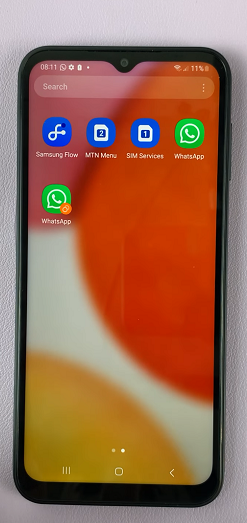 Watch: How To Turn Lock Screen Sound ON or OFF On Samsung Galaxy A14
Set Up Dual Messenger for WhatsApp
All apps that have dual messenger capabilities are enabled the same way, and WhatsApp is no different.
Go to Settings, and on the Settings page, find and tap on Advanced Features.
Select Dual Messenger and turn it on for WhatsApp Messenger.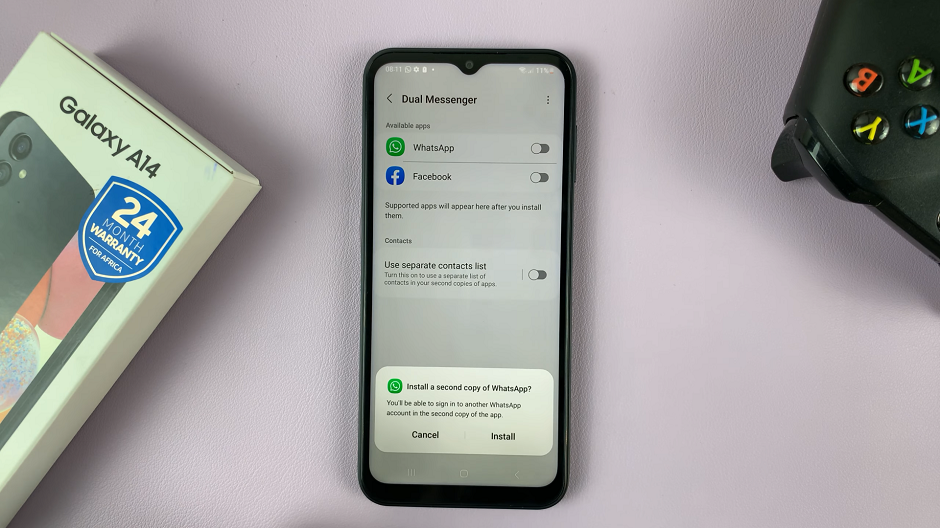 Hit Install and Confirm to install a second copy of WhatsApp Messenger.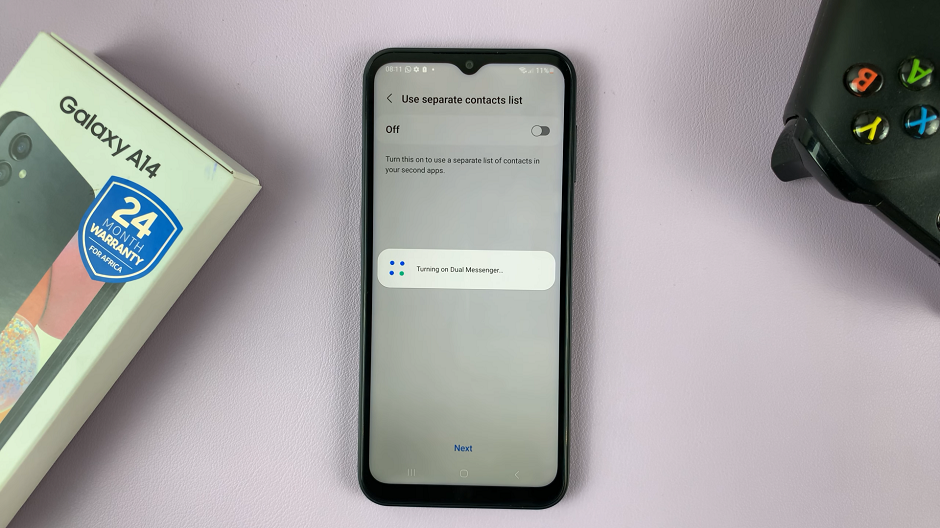 Choose whether to toggle on the Use Separate Contacts List option or to leave it off. Set up the second WhatsApp account.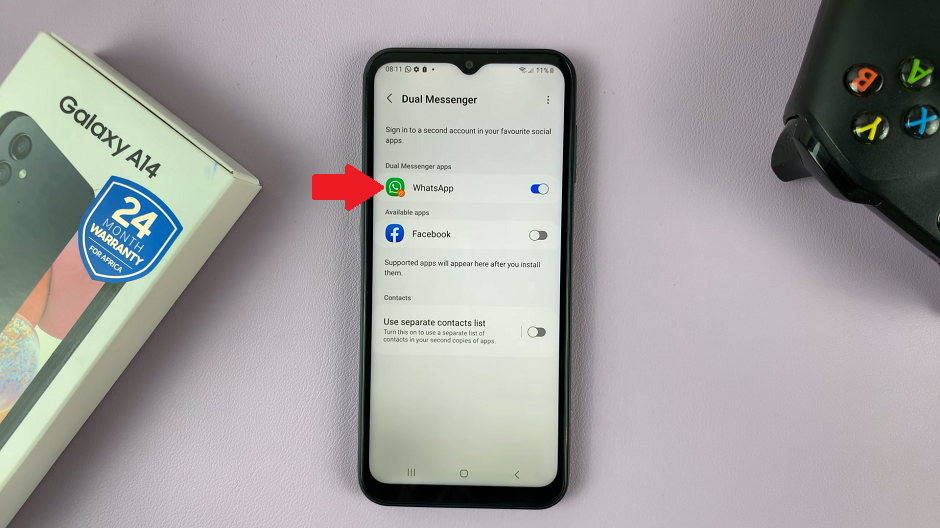 You can use a dual SIM Samsung Galaxy A14, because WhatsApp can be run on each of the SIM cards when you set up Dual Messenger. But this isn't necessary, though, as it isn't a determining factor for if dual WhatsApp Messenger works.
Even though I am using a dual SIM Samsung Galaxy A14, I don't need the two SIM cards inside the phone to set up dual WhatsApp Messenger. The other SIM card can be in a different phone.
If it is on a different phone, the verification code during set up will be sent to that number, and I will still be able to enter and verify it. If you're using a dual SIM phone, it can also be in the phone itself.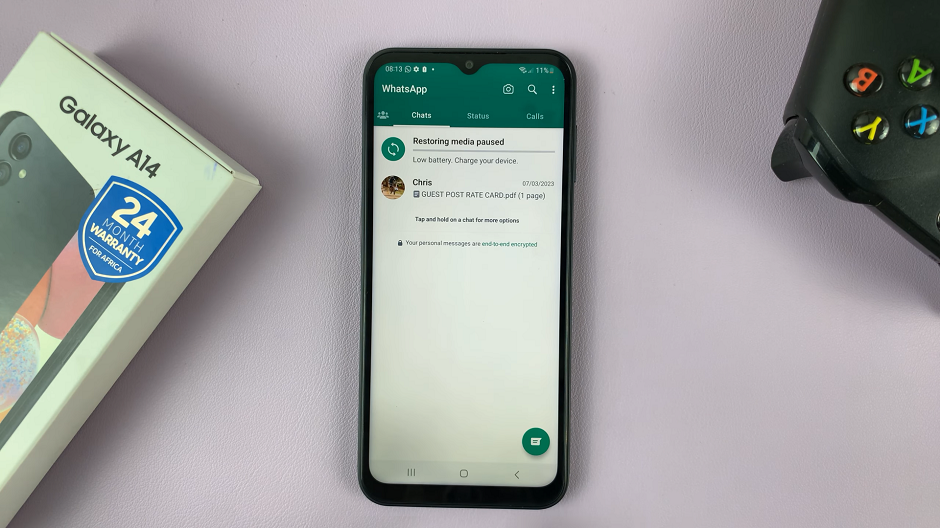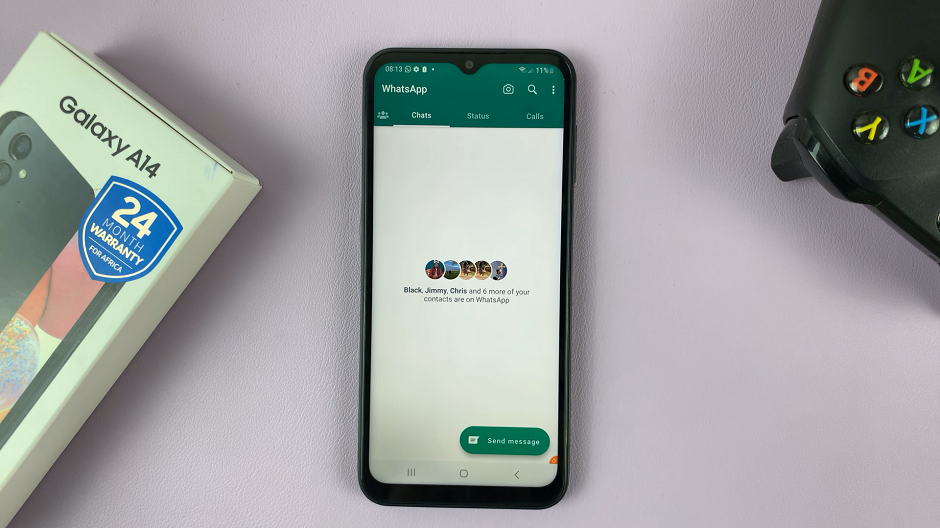 You should now be able to use two WhatsApp accounts concurrently on your phone. You can separate one for personal use and the other for business or any other use. The choice is entirely yours.
Read: How To Answer and End Calls With Galaxy S23 Physical Buttons