You can set the screen timeout to 'Never' when charging your Samsung Galaxy Z Flip 5. This means that your screen will stay awake and not go off, even when the screen timeout period expires.
The Samsung Galaxy Z Flip 5 is a remarkable piece of technology that combines innovation with style, giving users a unique smartphone experience. Among its many features, the ability to customize settings to match your preferences stands out. One such customization is the screen timeout setting, which determines how long your device's display remains active before it automatically turns off.
The default screen timeout setting on most smartphones is typically around 30 seconds to 2 minutes. While this conserves battery life and prevents accidental taps, there are instances where you might want to keep your screen on for longer durations, particularly when your device is connected to a power source. Whether you're reading an article, watching a video, or using your device as a digital photo frame while it's charging, setting the screen timeout to 'Never' can be incredibly convenient.
Read: How To Enter & Exit Recovery Mode On Samsung Galaxy Z Flip 5
Set Screen Timeout To 'Never' When Charging On Samsung Galaxy Z Flip 5
To set screen timeout to stay awake even while the Samsung Galaxy Flip 5 is charging, you will first need to enable developer options.
To start, unlock your Samsung Galaxy Z Flip 5 and navigate to the home screen. From there, tap on the settings icon in the app drawer to access your device settings. You can also access settings via the settings app in the app drawer.
Scroll through the settings menu until you find the About phone option. Under About phone, scroll down and tap on Software Information.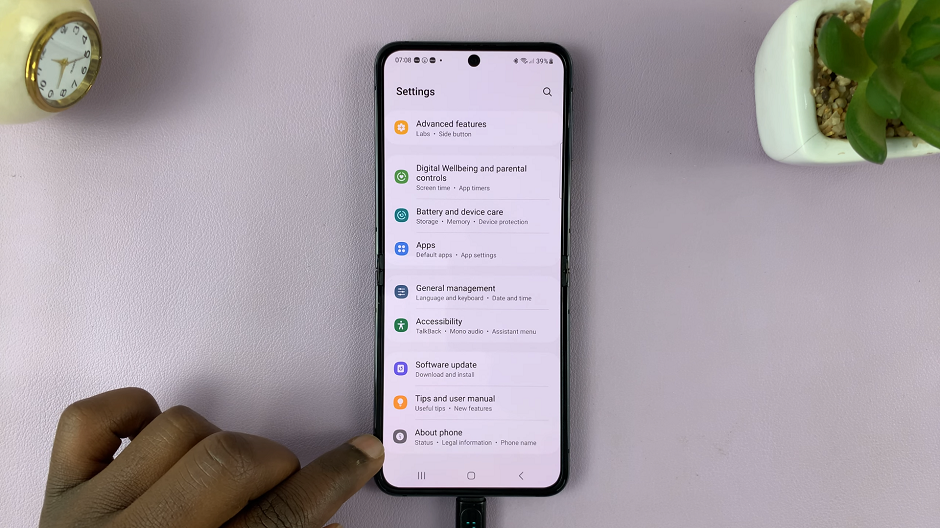 Locate the build number and tap on it 7 times. You will be prompted to enter your lock screen PIN, password or Pattern to enable Developer Options.
Go back to the settings page,. and now, just below the About phone option, there will now be the Developer Options option as well. Tap on this option.
Once you're in the Developer Options menu, look for the option labelled Stay awake. To keep your screen on indefinitely while charging, tap on the toggle next to this option, to the ON position.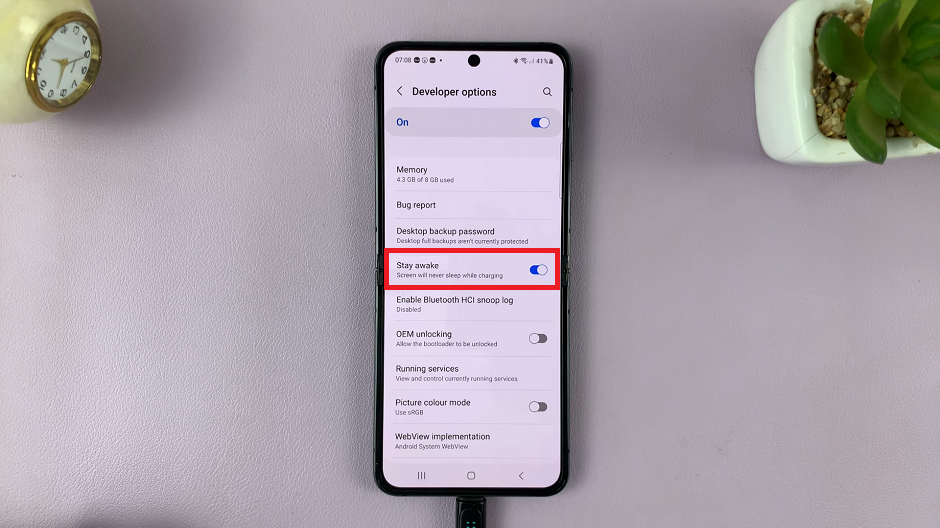 This means that whenever your Galaxy Z Flip 5 is connected to a power source, the screen will stay active. Until you manually turn it off.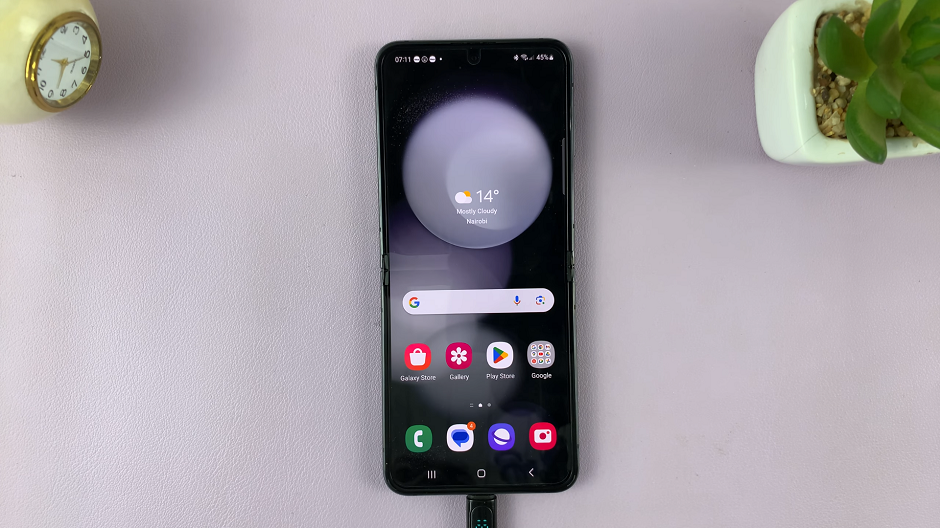 With the screen timeout set to Never while charging, you can now enjoy uninterrupted access to your content. Do this without worrying about the display turning off unexpectedly. Whether you're engaging in a task that requires prolonged screen visibility or you simply want to showcase your device while it's charging, this customization provides you with flexibility.
This simple yet effective customization enhances your experience whether you're engaged in work, entertainment, or leisure. Remember that keeping the screen on for extended periods while charging might have a slight impact on battery consumption. But, the convenience it offers often outweighs the trade-off.
In the dynamic world of smartphones, knowing how to customize settings empowers you to create a device that aligns perfectly with your lifestyle.
Also Watch: How To Scan QR Codes On Samsung Galaxy Z Flip 5